Paleo 'graham cracker' crust
A simple Paleo pie crust using simple ingredients such as almond flour, honey and coconut oil for any pie needs, any time of year!
As I'm becoming more and more obsessed (yes, that's right), obsessed with eating limited amounts of refined sugar, I have been playing with a number of crust recipes. And this one works. And it has no dried fruit in it, so Abby is happy.
This Paleo pie crust is simply almond meal, with some coconut oil and honey. That's it. And it cooks really nicely either by itself if you wish to have a cold pie, or with the filling. I've used a chocolate version of it for my chocolate banana peanut butter pie (recipe here), and I've added ginger to it for a pumpkin pie base. So simple to make, the only concern is what to do with the leftover dough – this recipe makes a little bit more than what you need for a standard 9″ pie base. I usually add some baking soda and form them into cookies, but feel free to do what you wish with it!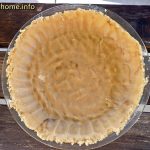 Grain-free pie crust
(Paleo, gluten-free, dairy-free, no refined sugar)
Ingredients
1 1/4

cup

almond meal

1/4

cup

coconut oil

melted

1/4

cup

honey
Instructions
Combine all ingredients together until a dough forms. Use your hands to get the mixture well combined.

Roll out to desired shape and size (see notes for tips).

For pre-baking, set the oven at 350F and bake for 7-10 minutes.

For baking with filling, follow the recipe instructions.
Recipe Notes
This dough is quite sticky so set the dough on a piece of cling-wrap with another piece on top before trying to roll out. Parchment paper also works well.