Pumpkin pie with ginger crust
A Paleo pumpkin pie, full of pumpkin pie spices and ginger … even in the crust!
It's that time of year again, when everything is pumpkin flavored. I love pumpkin – in soups, in salads, and (obviously) in baked goods, like muffins, breads and cookies!
And I realized, I don't have a pumpkin pie recipe on this website. It's not through lack of making pumpkin pies … its that I just haven't ever gotten the right combination of texture and flavor in the filling or the right crust to take photos of. So, please feel very privileged, because I think I've made over 10 pumpkin pies in the last few years, just to try to get the perfect combination. And I think this is it.
And the bonus is, there's no refined sugar, and it's naturally gluten and dairy free, so people following Paleo diets will be able to partake. And the other bonus is that it's so easy to make … and if you're not as fussy as I am about how it looks, it tastes awesome no matter whether the crust falls apart or not!
This came about as a mixture of other recipes and my experimentation. I need to give kudos to Paleo Grubs (website here) and Elana's pantry (website here) for inspiring me. And I hope you guys don't mind if I've taken a few liberties to come up with my own Paleo pumpkin pie recipe …!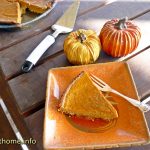 Paleo pumpkin pie with ginger crust
(Paleo, gluten-free, dairy-free, no refined sugar)
Ingredients
For the crust
1 1/4

cups

almond flour

1

tbs

ground ginger

1/4

cup

coconut oil

1/4

cup

honey

1

tbs

lemon zest
For the filling
1 15

oz

pumpkin puree tin

3

eggs

1/2

almond milk

1/3

cup

honey

1

tsp

vanilla extract

1

tbs

cinnamon

1

tbs

ground ginger

1/2

tsp

nutmeg

pinch

cloves
Instructions
Preheat the oven to 350F and spray a 9" pie tin with non-stick cooking spray.
For the crust
Mix all the ingredients together until well combined.

Press into prepared pie tin and set aside.
For the filling
Mix together the pumpkin puree and eggs until all combined.

Add the almond milk, honey, vanilla and spices and mix to combine.

Pour the filling into the pie crust and bake for 45-50 minutes.

Remove from the oven and set on a wire rack to cool for 30 minutes.

Chill for at least 2-4 hours prior to cutting and serving.