Chocolate crackle cookies
These chocolate crackle cookies are so yummy – crunchy on the outside, chewy on the inside. Really easy to make as well!
These are my husband's favorite gluten-free cookie recipe (and have been for several years!). Although he won't say no to other gluten-free cookies that I make, like this, or this!
We both love these chocolate crackle cookies, actually they're a family favorite. One thing that we really like is that they are naturally gluten-free, and we're not having to try to substitute with anything that may or may not taste the same, or have the same texture. Just lots (and lots) of powdered sugar (icing sugar for you Aussies), cocoa, nuts and chocolate, held together with vanilla and egg whites.
Crunchy on the outside, chewy on the inside. But beware, I made these for my in-laws recently and both of them cracked a tooth while eating them … although they have both said it was due to their teeth, rather than anything in the cookies.
A tip for the unwary – make sure the egg whites are at room temperature before whipping them – if they are straight out of the fridge, the cookies don't have the chewy meringue texture and fall kind of flat. And spread. Lots. You have been warned! And, if your eggs aren't very big, you may need to add another one, rather than trying to combine a pile of dry ingredients with a small amount of wet – overmixing has the opposite effect to above – they go really chunky and hard.
Also, no matter what I've tried, they only seem to work if you use cocoa in them … don't try to be too clever with substituting other ingredients in this recipe! But if you do, and you like what you obtain, leave a comment below and let me know!!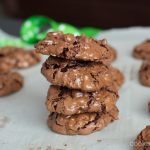 Chocolate crackle cookies
(Gluten-free, dairy-free)
Ingredients
3

cups

icing sugar

(powdered sugar)

3/4

cup

dark cocoa powder

150

g

dairy-free cooking chocolate

chopped

1 ½

cups

nuts

almonds, walnuts, or similar

1

tbs

vanilla extract

4

egg whites

room temperature
Instructions
Preheat oven to 175C/350F.

In large bowl mix together all the dry ingredients.

Add egg whites, vanilla and stir just until incorporated (do not over mix). Consistency will resemble a brownie-like mixture, thick and fudgy.

Drop dough by tablespoonful on parchment-lined cookie sheet, leaving at least 2" between each.

Bake until cookie tops are dry and crackled, approximately 15 minutes. Let cookies cool on cookie sheets before removing. Store in airtight container for up to 3 days