'Love' red velvet cupcakes
Monday, December 14th, 2015 at 9:33 pm
Another in the series of the Fruits of the Spirit cupcakes. This week's installment – Love. Well, it originally came from a red velvet cupcake winning entry on Cupcake Wars (obviously), but what else could this be, but love? I found a recipe for gluten-free red velvet cupcakes (which was basically a normal recipe but using 'gluten free' all purpose flour), and Abby made some cream cheese frosting (non-dairy of course).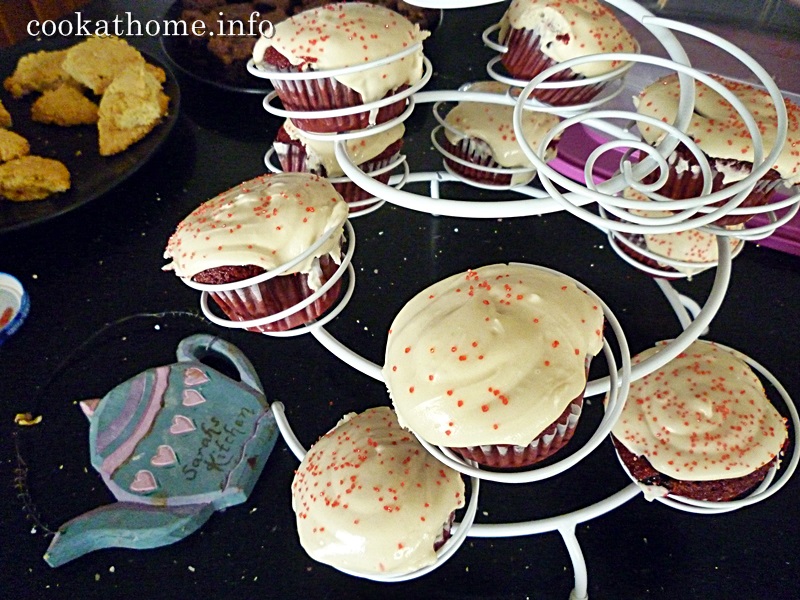 We had lots of fun making them – this was an additional dessert for our regular FISH (Fellowship in Someone's Home) lunch. This time around we had a total of 16 people at our place for lunch. And on the menu:
Beef casserole (adapted from the shepherd's pie recipe here)
Lentil stew (adapted from the recipe on the back of the packet of lentils)
Pizza on gluten-free pizza crust – including homemade pizza sauce, pepperoni, ham, pineapple, sun-dried tomatoes, spinach and cream cheese
Red velvet cupcakes (this post)
Chocolate mint brownies (recipe here)
Date and lemon scones (still trying to perfect this recipe)
And funnily enough, there weren't that many leftovers! Everyone left feeling full and satisfied and we had a great time of chatting about life, death and everything in between.
Thanks for reading this week's adventures cooking with Abby – stay tuned for the next exciting episode of our own Cupcake Wars coming up!
Until next time, enjoy cooking at home … with kids!
Sarah
Filed under: Cooking with kids
Like this post? Subscribe to my RSS feed and get loads more!