Healthy Reece's Peanut Butter Cups
Reece's Peanut Butter cups copycat – made at home with real ingredients, much healthier for you!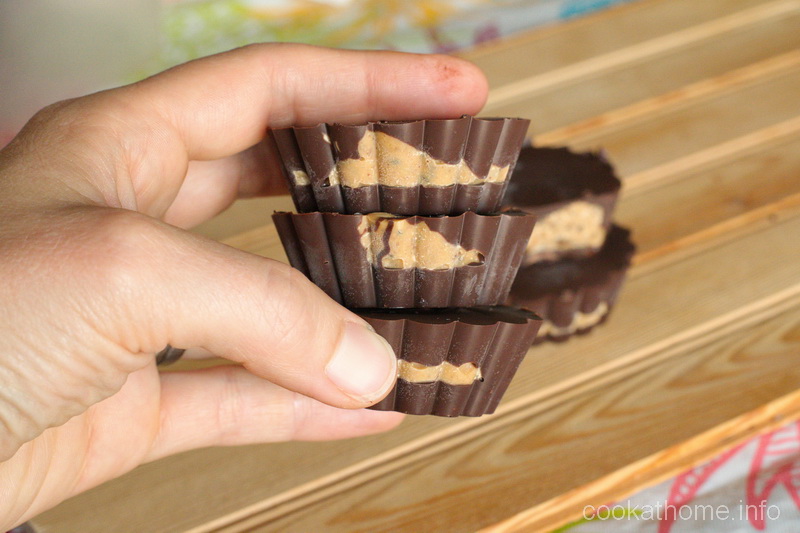 Chocolate and peanut butter … a match made in heaven (see here, here and here!).  And I LOVE Reece's peanut butter cups.  The problem is all the sugar, fats, etc and the fact that they just taste SO good.  So I set out to find a more healthy recipe … and this was adapted from a recipe I found on the Internet.
This recipe is for 12 cups made in normal muffin tins, with normal patty pan liners, but it also makes 15 mini-cups.  It just depends on what you have available in your cupboard.
Really simple, much healthier than the store-bought variety.  So they're not that much lower in calories, but WAY less refined sugars and all those 'bad' fats.  Abby thinks they taste almost exactly the same as the real things …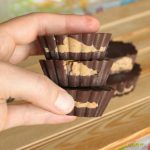 Healthy Reece's Peanut Butter Cups
(Gluten-free, dairy-free, vegan, no refined sugar)
Ingredients
250

g

chocolate chips

1

tbs

14g coconut oil

1/2

cup

125g peanut butter

1 1/2

tbs

12g flaxseed meal

1 1/2

tbs

15g chia seeds
Instructions
Place patty pans in a 12-hole muffin tin.

Melt the chocolate chips and coconut oil together in the microwave, about 1 minute.

Drop by tablespoonful (approximately) into patty pans. Don't put too much in or the chocolate will overwhelm the peanut butter.

Tap the muffin tin sharply on the bench to flatten out the chocolate. Place in freezer while making the peanut butter part.

Mix the peanut butter, flaxseed meal and chia seeds together.

Take the muffin tin out of the freezer and place by teaspoonful (or slightly more) into each patty pan. Try to get this as smooth as possible.

With the remaining chocolate/coconut oil mixture, spoon over the top of each.

Chill in the freezer for at least 2 hours.
Recipe Notes
You can also make your own dairy-free chocolate - check out my healthy dark chocolate recipe at http://cookathome.info/healthy-dark-chocolate/
Adapted from www.foodrepublic.com