Fruit mince pies
A fruity filling and a gluten-free pastry base for fruit mince pies. A little crumbly, but well worth the effort, especially at Christmas-time!
I love fruit mince pies – we used to get them all the time in Australia. But when we moved to Chile, I found out that they just didn't have them as a tradition. The first year we were there, we made some concoction of dried fruit and sugar, and wrapped them in a pastry sheet to make 'pin-wheel' type things.
But one year I wanted to make gluten-free fruit mince pies. I found a recipe and started to make them when we visited my parents for Christmas, but I couldn't find the right cornmeal – I bought some polenta and used that, only to realise when I read the back of the packet that it was manufactured on equipment that also processes gluten. Sure enough, within about 10 minutes, I started to feel sick, so we threw that dough away. Also, most of the fruit mince I could find in Australia also had that warning.
When I went to the US recently, I found a jar of fruit mince that had no mention of gluten-containing problems, so I brought it back with me. And I have finally found the time to make them (with non-gluten-containing cornmeal!). So here's the recipe – enjoy!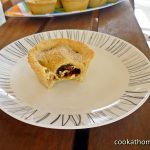 Gluten-free fruit mince pies
2014-04-06 16:28:32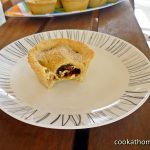 Nutrition Facts
Amount Per Serving
* Percent Daily Values are based on a 2,000 calorie diet. Your Daily Values may be higher or lower depending on your calorie needs.
Ingredients
220g rice flour
140g caster sugar
220g cornmeal
220g cold butter, diced
2 eggs, beaten, mixed with 1 tbs water
350g fruit mincemeat
Instructions
Sieve the flour and cornmeal into a large mixing bowl.
Add the butter and caster sugar and rub into the flour with your fingertips until the mixture resembles fine breadcrumbs.
Using a table knife, stir in the egg and water mixture until the dough clumps together. Add another tablespoon of water if the mixture is still too dry and crumbly.
Bring the dough together into a ball. Knead lightly, on a work surface dusted with rice flour, until smooth. Wrap in cling-wrap and chill in the fridge for 30 mins.
Roll out the pastry and cut out circles large enough to fill the base of the prepared tin (I used a muffin tin). Press gently into each hole, then fill with the mincemeat.
Cut out another set of circles slightly smaller and use to cover the mincemeat. Press the edges together to seal. Make a small slit in the top of each to prevent them from bursting, then brush lightly with milk and sprinkle some sugar on top.
Chill for about 30 mins.
Preheat the oven to 200C. Bake for approximately 20 mins until golden brown. Remove to a wire rack and serve either warm or cold.
Cook at Home http://cookathome.info/