Chocolate peanut butter oat slice (no-bake)
This no-bake chocolate peanut butter oat slice is very more-ish – portion control is required here!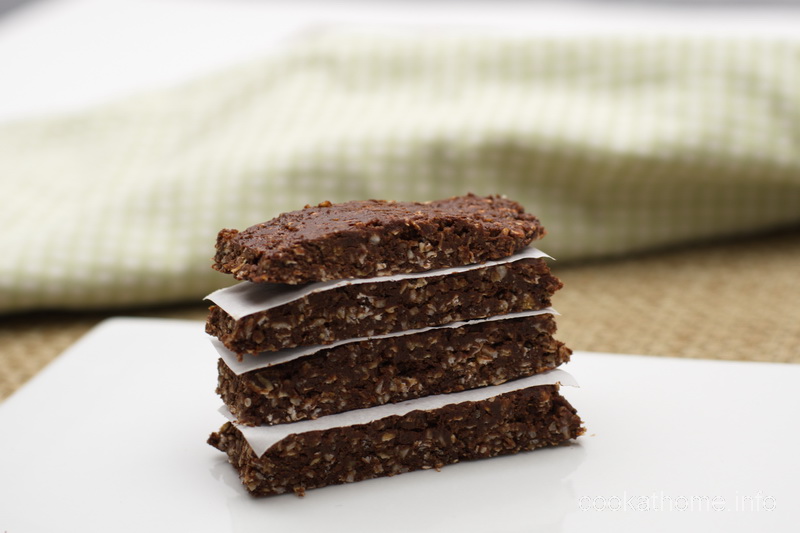 This is a really easy no-bake chocolate peanut butter oat slice recipe – one of my favourites, and also another where strong willpower is required for portion control. A chocolate peanut butter slice, full of oat-y goodness. No problems with the gluten or dairy-free opportunities, just make sure you use certified gluten-free oats and dairy-free margarine or coconut oil with dairy-free milk (i.e. almond, coconut etc). But do not leave out the peanut butter. Do not ever leave out the peanut butter. That's the law! Ok, if you want to, you can substitute with almond butter, or cashew butter, or sunflower seed butter. But you need some sort of butter-y goodness!
I have made these in mini-muffin tins, in an effort to only have one at a time … works quite well until you realise you've eaten more than one!
Yes, this recipe contains white and brown sugar, but everything in life should be balanced right? If you're wanting something with chocolate, and peanut butter, and oats, but without the processed sugar, check out these oat balls, and just make it into a slice instead of balls! That may also help with the portion control …!
Chocolate peanut butter oat slice
(Gluten-free, dairy-free, vegan)
Ingredients
1/2

cup

butter

or dairy-free shortening, or coconut oil

2

cups

white sugar

1/4

cup

brown sugar

6

tablespoons

cocoa powder

1/2

cup

milk

almond milk if needed

1/2

heaping cup creamy or crunchy peanut butter

or other nut butter

1

teaspoon

vanilla extract

3

cups

rolled gluten-free oats
Instructions
Line an 8×8 or 9×9 pan with aluminum foil or parchment paper and spray it with cooking spray and set it aside.

In a medium saucepan, combine butter, sugars, cocoa powder, milk and heat over medium-high to high heat, stirring to encourage the ingredients to melt and combine. This can also be done in a microwaveable bowl using the microwave.

Turn the heat off or remove from the microwave and add the peanut butter and vanilla extract (careful when you add the vanilla, it could bubble up a bit on you) and stir until smooth. Then add the oats and stir to coat.

Pour batter into prepared pan, spreading it evenly into the pan.

Place pan into the freezer and freeze at least 30 minutes, or until bars have set up, before slicing and serving.