Chicken vegetable soup
A hearty meal, this chicken vegetable soup is chock full of healthy vegetables and chicken, with just enough herbs to give it an awesome taste.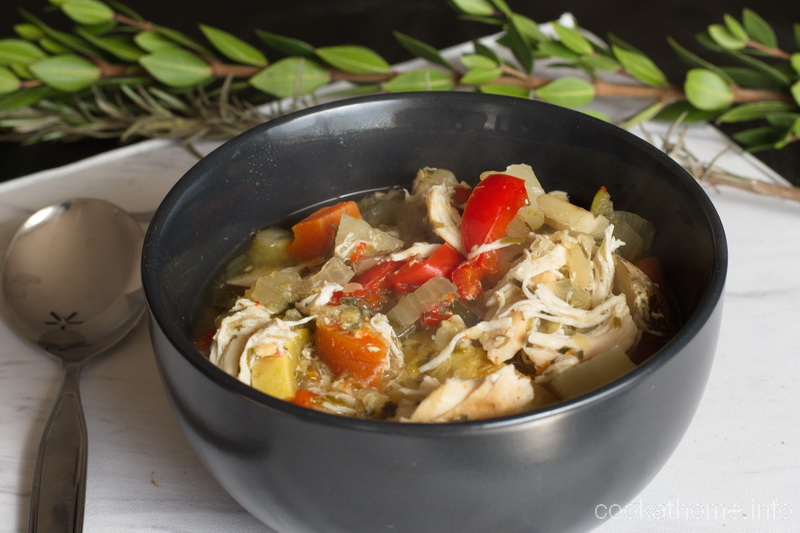 As some of you know, Grant and I are looking into opportunities to feed the homeless, and help them to break the cycle of being homeless. One of our ideas was to have a soup kitchen, or drop-in coffee shop, where we can work with people, develop relationships with them and give them some skills. I'm definitely not the best cook in the world (by a long shot!), but most of what I make I get good comments about so I think I can help others with some basic cooking techniques.
Soup is fantastic – if you make it too thick, you can call it a casserole, if you make it too think, it's a broth. And you can chuck in as many vegetables and other healthy ingredients you want. And it's hearty, especially useful for the winter months. And so this soup was born.
Last week I posted my taco soup recipe (see here) and that was a great success with all recipients. I wanted to have another soup recipe in my arsenal, so thought I'd reinvent a soup/casserole that we used to have on a regular basis in Chile – cazuela de ave. I think that literally translates into casserole of bird (or chicken casserole!). We used to get a packet mix, chuck all the ingredients into our pressure cooker and within 30 mins we'd have a wonderful hot and healthy meal.
But the packet mix had gluten … so I had to come up with a combination of herbs and spices that still tasted good all on my own. Here it is – I used our slow cooker to make this chicken vegetable soup in, but am pretty confident a big stockpot will also do the job.
And as always, substitute whatever veggies you have in the pantry or fridge, whatever herbs and spices you wish, add as much or as little extra water to achieve YOUR preferred consistency. And feel free to add in pasta, rice or lentils if you wish. I'd love to hear how you went!
Chicken vegetable soup
(Paleo, Whole30, gluten-free, dairy-free)
Ingredients
4

lbs

chicken breasts or thighs

1

onion

3

stalks

celery

2

rashers

bacon

3

large

carrots

3

potatoes

1

cup

broccoli

1

cup

zucchini

2

cups

chicken stock

1

tbs

ground marjoram

1

tbs

ground thyme

1

tbs

rosemary
Instructions
Remove any skin from the chicken and set aside. For thighs, you can either cook with the bone in, or remove the bones prior.

Chop the vegetables into the sizes and shapes you desire.

In a large frying pan, saute the onion, celery and bacon until the onion softens.

Add all vegetables, herbs and chicken stock to a slow-cooker and mix together.

Lay chicken on top of vegetables.

Slow cook for 4 hours.

After 4 hours, remove the slow cooker lid and stir. The chicken should break easily and mix in with the rest of the vegetables.
Recipe Notes
Serve with fresh bread, garlic bread, or any other side dish of choice.