Sunbutter chocolate chip cookies
Monday, July 2nd, 2018 at 10:00 pm
These sunbutter chocolate chip cookies are nut-free, and vegan, but you'd never know it from the awesome texture and flavor!
Who else loves procrasti-baking?  Or is it just me?  You know, when you have some time on your hands, and you don't quite know what to do with yourself?  Now personally, I head into the kitchen and wonder what I can make with whatever ingredients I have lying around in the pantry and fridge.  Usually with some sort of nut butter and chocolate combination.  Who's with me?
We recently changed churches and are in the process of getting to know a whole new group of people.  Fortunately for me, there are a significant number of ladies that have expressed their preference for gluten and dairy-free foods, so I'm in my element of serving them with my love language – baking treats for them!  And I started thinking about what I could make for them.
Combining my wanting to make cookies for my new group of friends, and having a few hours to myself in the kitchen, helped these sunbutter chocolate chip cookies to be born.  I'd like to provide a link for you to see what this recipe was adapted from, but to be honest, it was just using my experience to see what needed to be added in terms of taste (because you know I'm the Cookie Dough Monster!), and texture.
But, everyone who had a taste of these cookies fell in love with them.  It's just a unique texture and flavor, but so suitable for so many people with special dietary issues.  I hope you love these sunbutter chocolate chip cookies as much as we did!
Sunbutter chocolate chip cookies
(Paleo, gluten-free, dairy-free, vegan, no refined sugar)
Ingredients
1

cup

sunflower seed butter

1/2

cup

coconut sugar

1/2

cup

unsweetened applesauce

1

tsp

baking soda

2

tbs

coconut flour

1/4

cup

tapioca flour

3

oz

dairy-free chocolate chunks
Instructions
Preheat oven to 350F and prepare two baking pans with parchment paper.

Combine the sunflower seed butter with the coconut sugar and applesauce until well mixed.

Add in the baking soda and two types of flours and mix well.

Fold in the chocolate chunks until well dispersed.

Drop tablespoonfuls of dough onto the prepared baking pans, allowing 1" gap between balls.

Bake for 12 minutes or until slightly brown. Allow to cool on the tray before moving to a wire rack.

Store for up to 5 days in a sealed container.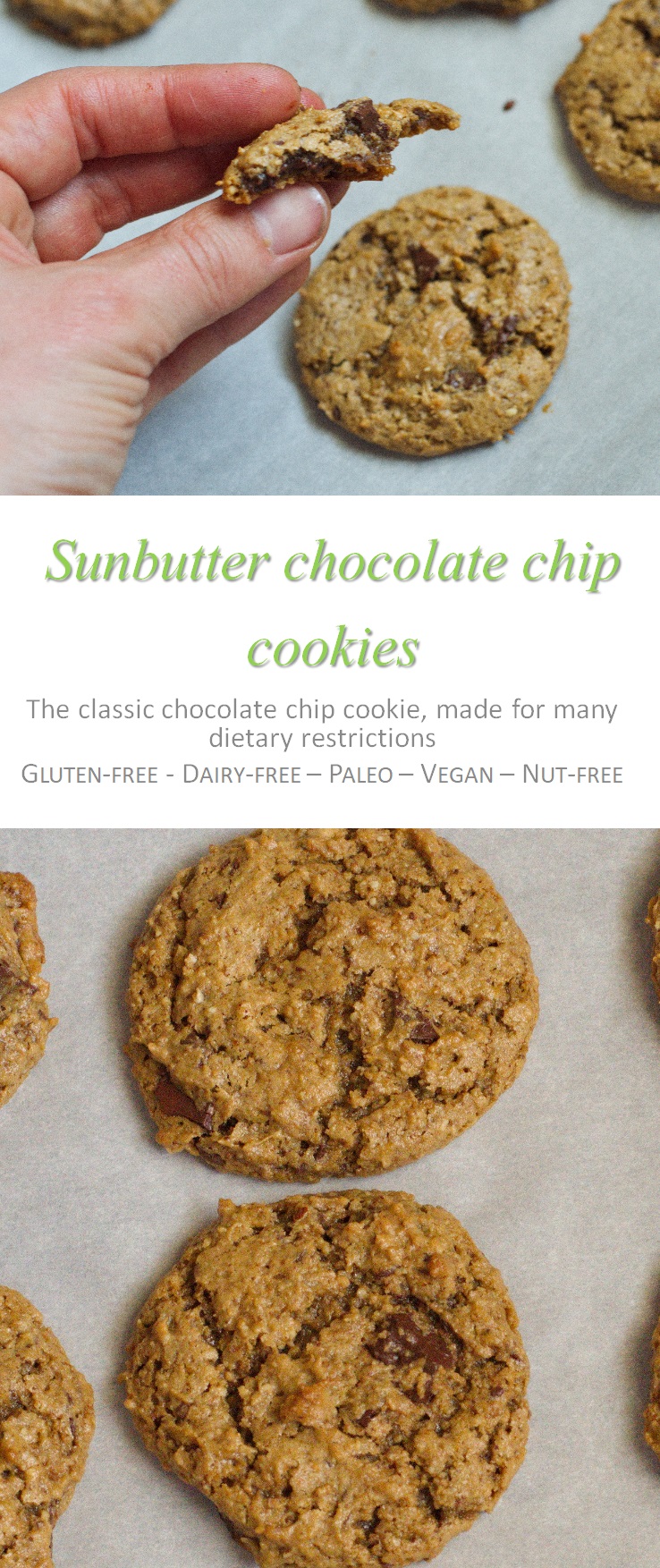 Tagged with: cookies • healthy • no refined sugar • paleo • sunflower seed butter • vegan
Filed under: The Blog!
Like this post? Subscribe to my RSS feed and get loads more!