The gluten-free snickerdoodle challenge
Friday, July 10th, 2015 at 2:03 am
Ok, so for those of you following along, you will know that I love cookies (and the dough). And I love making cookie crusts for cheesecakes, pies, etc. Well, I got it into my head that I needed to find a go-to recipe for a cookie crumb crust that didn't involve peanut butter. I know, how strange!! But I want to make some cheesecakes and pies that just won't go well with anything peanut butter, like a banana custard pie, blueberry lemon cheesecake, etc. I'm getting hungry already!
I put on my thinking cap, and thought that snickerdoodles (you know, sugar cookies rolled in sugar and cinnamon) would be a good place to start. My mum had a snickerdoodle recipe that I absolutely loved. Ok, truth be told, I loved the dough while it was chilling more than the finished product, but you get the picture! But I didn't necessarily want to have a cookie that used flour, since then I would have to substitute for gluten-free flour and that sometimes doesn't work very well. So I found three recipes that were gluten-free snickerdoodle cookies and one day after work, I tried all of them out and asked the family for their opinion. A bonus was that all of these recipes contained no refined sugar, so my tendency to eat the dough while baking wasn't too bad on my overall health (and weight!).
This was a recipe that I found from Elana's Pantry (see here) and used almond flour, palm shortening, and honey all mixed in a food processor. Because I didn't have any palm shortening, I used coconut oil instead, but the rest of the recipe I followed pretty much to plan.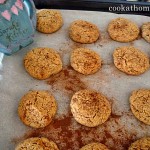 This recipe was from Slim Palate (see here) and again used almond flour, but also had a little bit of coconut flour, coconut oil and honey, but could be all mixed in a bowl. I actually followed this recipe right to the letter, except for rolling the cookies in the cinnamon-sugar mixture – I got lazy and just sprinkled cinnamon on top!
This recipe was from Life Made Full (see here) and called for coconut oil, coconut sugar, almond flour (again) and cream of tartar, as well as chilling the dough before baking. From the picture you can obviously tell that I put way too many on the tray at once, and they spread A LOT!
And the verdict? Well for taste, it was the Life Made Full recipe as the winner. This was hands down the best tasting snickerdoodle, although it was quite chewy and crumbly and difficult to hold while eating. That could be due to the fact that I just didn't bake it for long enough, but it's a learning process.
For texture, it was the Slim Palate recipe, but maybe it was because I just sprinkled on the cinnamon rather than rolling the cookies in a cinnamon-sugar mixture, but all in the family agreed these were a little bland. However, all is not lost because these are the cookies that I've now taken to the freezer and will use as the base of a cheesecake in the near future (and add some more cinnamon etc to it!)
So a great big thank-you to the three recipe originators – I might try tweaking some of their recipes at a later date, but at this stage, I'm done with snickerdoodles for a while!
I'd love to hear any comments you may have, or any suggestions about other challenges I can conduct for you as well – just let me know in the comments below, or send me an e-mail!
Until next time, enjoy cooking at home!
Sarah
Filed under: The Blog!
Like this post? Subscribe to my RSS feed and get loads more!