Seasoned potato wedges
A classic snack or side that will compliment any meal – these seasoned potato wedges are a family favorite!
When I was growing up, my parents called me the 'carbohydrate kid'. The reason was that my favorite all time food was hot chips (steak fries for you Americans!. I would have these by themselves, with gravy (roast meat brown gravy, again for you Americans), between two pieces of buttered white bread, any which way I could.
Ahh memories! I remember my mother buying the oven bake chips on a regular occasion, and I would bake a whole tray-ful, mostly just for myself as a snack. Sometimes I'd share. When I was pregnant with Abby, I would buy chips and gravy almost every week – you know, eating for two etc. When Grant wanted to buy a new bass guitar, I said ok as long as he brought home chips and gravy for dinner. Do you see a trend happening here?
The problem is that most of the oven bake fries either contain gluten, or are made on equipment that also processes gluten. So I had to come up with a fail-safe recipe to feed my chip-hungry stomach. My family will attest to the fact that we have these potato wedges on average at least once a week. One of our favorite ways of eating them is with sour cream and sweet chili sauce – just ask Henry how he likes his potato wedges!
I was recently sent a sample pack of Pranayums spices (website here), and they worked absolutely brilliantly on these potato wedges:
Pranayums manufacture a daily super spice boost in convenient packages. The spices include turmeric, black pepper, cardamom, ginger, cinnamon, licorice root and other spices. I love the flavor – so be aware you'll be seeing a few more recipes with Pranayums spices in them coming out!
If you don't have access to Pranayums, my usual go-to spice mix is a blend of paprika and cumin (and hence the recipe below). However, feel free to use any spices or herbs, such as oregano, basil, parsley for an Italian mix. Just experiment. And enjoy. And let me know how you go!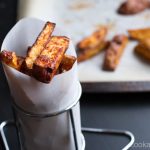 Seasoned potato wedges
(Paleo, Whole30, gluten-free, dairy-free)
Ingredients
3

large potatoes

skin on

1

tbs

paprika

1

tbs

cumin

1

tbs

olive oil
Instructions
Preheat oven to 375F and spray baking pan with non-stick spray.

Cut potatoes into wedge-pieces (mainly lengthwise, rather than horizontal) and place in a bowl.

Add the oil and spices and toss the potatoes until all covered.

Lay the potatoes in a single layer on the baking pan and bake for 35-40 minutes, or until a fork is able to poke into a wedge without too much force.

Remove from oven and enjoy!