Oatiest oatmeal cookies
These oatiest oatmeal cookies are full of raisins and so yummy – can't go wrong with the classic combo of oatmeal raisin cookies!
These oatmeal raisin cookies are amazing – soft and chewy, with a nice blend of 'oatiness'. They seemed to taste healthier than other oatmeal cookies, if that's possible. But they weren't as loaded with fatty things like peanut butter, like my other awesome oatmeal cookies (Monster Cookies, recipe here). I'm almost thinking that I like these better than the monster cookies … but I haven't quite gone that far yet.
The recipe calls for raisins, but I have also used the recipe to use up all our leftover milk and white chocolate chips and M&M's, as well as the raisins. I think the raisins make them nice and sweet, and a little juicy. For a recipe in between the full on Monster cookies and these, check out the oatmeal chocolate chip cookies here!
Try them both and let me know which ones you like best!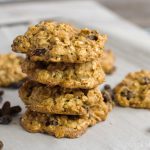 Oatiest oatmeal cookies
(Gluten-free, dairy-free)
Ingredients
450

g

rolled gluten-free oats

1

tsp

baking powder

1

tsp

ground cinnamon

280

g

dairy-free butter

180

g

brown sugar

100

g

white sugar

2

large eggs

2

tsp

vanilla extract

240

g

raisins
Instructions
Grind 250g of the oats in a food processor until the consistency of whole-wheat flour. Add the baking powder and cinnamon and pulse to combine.

Combine the butter, brown sugar and white sugar in the bowl of a stand mixer, and mix on medium speed until light in colour, about 3 minutes.

Reduce the mixer speed, add eggs and vanilla and mix to combine.

With the mixer on the lowest speed, slowly add the oat mixture, the remaining 200g of oats and the raisins until just combined.

Scoop the dough into tablespoonfuls and place onto a lined baking tray.

Bake at 180C for 12 minutes. Remove from oven and let cookies cool on pans for 2 minutes.

Transfer the cookies to a cooking rack to cool completely.