Mango chicken pizza
A simple and tasty recipe for mango chicken pizza – testing the boundaries of pizza toppings.
This was a recipe that I've adapted over the ages, but is always a winner with my family. And easy as anything … buy a BBQ chicken, make up a really simple marinade and add to a pizza base with mango chutney and any other toppings you desire. We have had it on Naan bread, Turkish bread, actual pizza crust among others. We've added a Greek yogurt swirl, spinach, sun-dried tomatoes and other toppings as well. I'm giving you the base recipe – feel free to experiment at your leisure … and let me know how you go!
But this, this mango chicken pizza, is the recipe that Henry always asks for when we say it's pizza night. And it never fails – maybe because it is just that simple!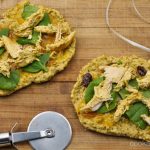 Mango chicken pizza
(Gluten-free, dairy-free)
Ingredients
2

cups

chicken

cooked and shredded

1

tbs

curry powder

2

tbs

mustard sauce

2

tbs

mayonnaise

1

cup

mango chutney

1/2

cup

spinach

chopped

9"

Pizza crust
Instructions
Ensure the chicken is thoroughly cooked. Shred into bite-sized pieces and set aside.

Place the curry powder, mustard and mayonnaise into a bowl and mix thoroughly. Add more or less ingredients to taste.

Coat the chicken evenly with the sauce.

Spread mango chutney evenly on the pizza base and top with the chicken and spinach.

Add any extra toppings according to taste i.e. sun-dried tomato, garlic aioli, Greek yogurt etc.

Bake in pre-heated oven at 400F for 10-15 mins, depending on which base is used and the desired level of crispiness.