Lemon polenta cake
A moist, lemon cake that doesn't taste gluten-free at all! Enjoy warm with lemon syrup poured over it.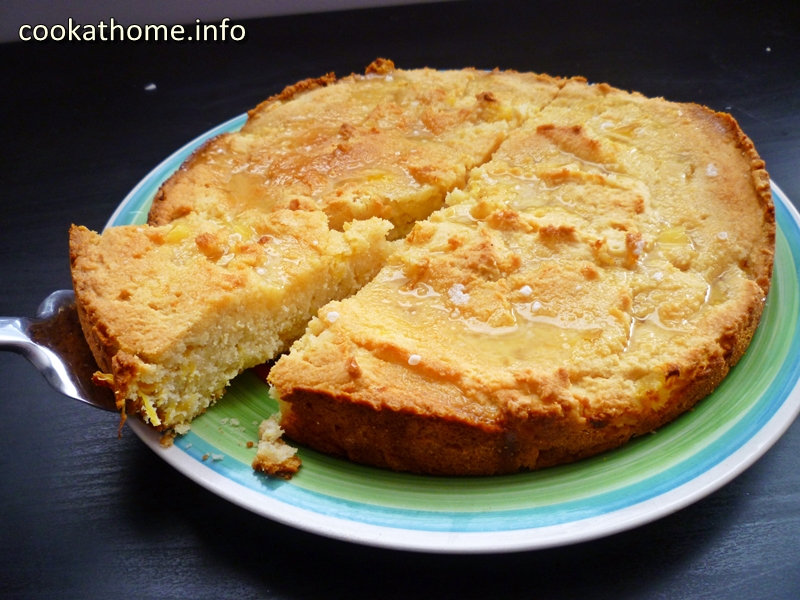 I saw this recipe on a Nigella Lawson TV show at one point in time and loved the idea of it being gluten-free without having to buy any special gluten-free flour etc. We have almonds, we have cornmeal (for arepas), and the rest of the ingredients are pretty much standard pantry items. All good – and each time I've made it, it's been really yummy!
Make sure you try it warmed up, with the lemon syrup poured on top – enjoy with a cup of coffee/tea as often as you wish!
PS Since I originally posted this recipe, I have played with it quite a few times. Here's some of the options:
Instead of lemon zest, try some crushed pineapple. You may need to add some pineapple juice to ensure you have the pineapple flavor, and if you do, just add a little more cornmeal to ensure the batter isn't too moist.
Instead of lemon zest, try orange zest.
Instead of the lemon syrup on top, try some buttercream frosting. You can flavor the buttercream frosting a multitude of ways – we've tried an orange buttercream as well as a sugar-free white chocolate syrup flavored frosting. All is good.
I made this for my Bible study group recently and one of the ladies took one home for her son, who is also gluten and lactose intolerant. He loved it so much that he wanted it for his birthday cake, so Abby and I made the cake and his mom decorated it – see below for details of how we've (Abby and I) adapted this recipe and all have been overwhelming successes!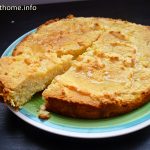 Lemon polenta cake
Ingredients
For the cake
1

cup

soft unsalted butter

dairy-free if required

1

cup

sugar

2

cups

ground almonds

or almond meal

¾

cup

fine polenta

or cornmeal

1 ½

teaspoons

baking powder

gluten free if required

3

large eggs

zest of 2 lemons

save juice for syrup
For the syrup
juice of 2 lemons

1

cup

icing sugar
Instructions
Line the base of a 23cm / 9inch springform cake tin with baking parchment and grease its sides lightly with butter.

Preheat the oven to 180°C/ 350°F.

Beat the butter and sugar till pale and whipped, either by hand in a bowl with a wooden spoon, or using a freestanding mixer.

Mix together the almonds, polenta and baking powder, and beat some of this into the butter-sugar mixture, followed by 1 egg, then alternate dry ingredients and eggs, beating all the while.

Finally, beat in the lemon zest and pour, spoon or scrape the mixture into your prepared tin and bake in the oven for about 40 minutes.

It may seem wibbly but, if the cake is cooked, a cake tester should come out cleanish and, most significantly, the edges of the cake will have begun to shrink away from the sides of the tin. remove from the oven to a wire cooling rack, but leave in its tin.

Make the syrup by boiling together the lemon juice and icing sugar in a smallish saucepan.

Once the icing sugar has dissolved into the juice, you're done.

Prick the top of the cake all over with a cake tester (a skewer would be too destructive), pour the warm syrup over the cake, and leave to cool before taking it out of its tin.