Lamb and bacon casserole
This lamb and bacon casserole is a family favorite, combining tender lamb chunks with bacon and a whole lot of veggies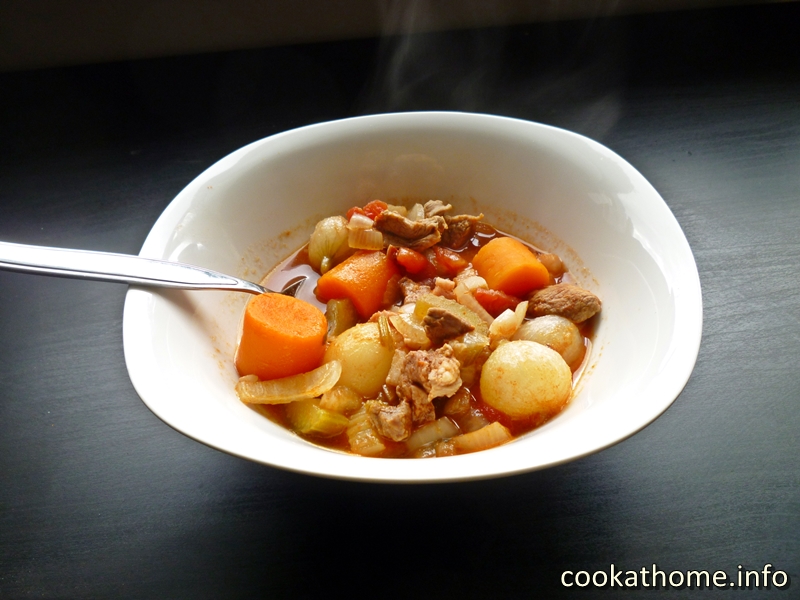 To be honest, this lamb and bacon casserole is not one of my recipes.  It comes courtesy of my mother-in-law and Grant grew up eating this casserole so I had to include it in the website.  And every time I've made it, the family (and whatever guests we have) have loved it.
It's a little difficult outside of Australia to get access to lamb – either diced or chops – that doesn't cost a fortune, so we don't get to have this as a meal idea very often.  But, since my family loves anything with bacon (bacon makes everything better), we had to give this a go when we had the opportunity.  The original recipe doesn't include veggies in with the casserole, and when my mother-in-law made it for me, she just had some steamed veggies on the side.  But when I made it, I had to give it a little Sarah-twist, so I added the veggies right into the casserole dish and baked them all together in the oven.  And I've made it in the slow cooker as well, which really made the lamb pieces nice and tender.
So maybe this IS now one of my recipes – just used the original as a base.  Whoever lays claim to this recipe, it's yummy, and that's all that matters!
Feel free to pair it with some bread, or serve it over rice if you're wanting a little bit extra.  Or a yummy salad to complement it!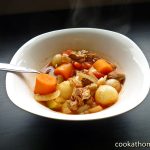 Lamb and bacon casserole
(Paleo, gluten-free, dairy-free)
Cook Time
1
hour
30
minutes
Ingredients
1/2

kg

lamb chops or diced lamb

200

g

bacon pieces

1

large

onion

1

tsp

worcestershire sauce

1

tin

diced tomatoes

2

tsp

tomato paste

2

cups

chicken stock

2

potatoes

diced

2

carrots

diced

2

celery sticks

diced
Instructions
Fry bacon pieces until crisp. Remove from pan.

Add lamb and onion to pan. Fry lightly in bacon fat.

When lamb pieces are brown, add bacon.

Gradually add the chicken stock and bring to the boil.

Add the Worcestershire sauce, diced tomato and tomato paste. Check the taste and add more of what is needed in terms of seasonings, including salt and pepper if necessary.

Put into a casserole bowl, add chopped veggies and cook in a moderate oven for 1 1/2 hours.

Serve immediately.
Recipe Notes
Depending on the sauce texture, you may want to add 1 tbs potato, tapioca or corn starch to the liquid and mix to thicken.
Back to lunch &/or dinner ideas