Homemade BBQ sauce
Never buy BBQ sauce again when you can make this rich, tangy Paleo friendly sauce at home!
Moving to the US has opened our eyes to the BBQ culture in a big way. Even through winter Grant was always wanting to grill something on our BBQ. Outside. He didn't get many takers! But it showed us just how popular BBQ sauce was here. But also how prevalent high fructose corn syrup is in everything. And I mean EVERYTHING. So on my latest 'reduce sugar intake' phase, I wanted to make some of my own BBQ sauce.
I tried a BBQ pork chop marinade that was really yummy, but it wasn't the real southern BBQ sauce that I was looking for to put on burgers, fries etc. And while flitting through Instagram I noticed a recipe from the Cheerful Kitchen that made a BBQ sauce over pulled pork. Have to say, I was intrigued and wanted to try it. The fact that it was Paleo friendly made me look even harder … so I tried it, with a few modifications, and here is my version!
Now my family love this more than the store-bought stuff, so I hope you do too!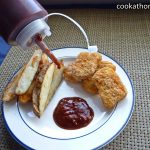 Homemade BBQ sauce
(Paleo, gluten-free, dairy-free, no refined sugar)
Ingredients
1/2

cup

blackstrap molasses

6

oz

tomato paste

3/4

cup

apple cider vinegar

2

tbs

stone ground mustard

1

tsp

salt

1

tsp

red chili flakes

1/2

tsp

onion powder

1/2

tsp

garlic powder
Instructions
Combine all ingredients in a bowl.

Serve as a topping for burgers, as a dip for fries or nuggets, or as a sauce in pulled pork, or ...!