Ham, potato and veggie soup
A tasty gluten and dairy-free soup that is chock full of veggies and other yummy stuff.
It's always a little scary when you get invited to have dinner at someone else's home (which is why I think I enjoy having people at our place instead!). Apart from my own special snowflake dietary issues, I'm always worried about how the kids will react to someone else's cooking. Abby and Henry can be very picky and once they get in their heads that they're not going to like something, it's really REALLY difficult to change their minds (recall Abby's obsessive hatred of beans … and raisins … and any dried fruit!).
So when we were invited to a friend's house for a mid-week dinner, and I knew that we were going to be served soup, it was very refreshing to see both kids going up for seconds. The soup was a ham and potato soup, and when I saw how the kids reacted to it, I asked my friend for the recipe. Unfortunately it was one of those where there is no recipe and she just adds things until 'it looks right' (similar to my Mum!). So she sent through the ingredients with a brief procedure and left it to me to try it.
I tried it for our camping trip and added quite a bit extra spices and veggies. We really liked it, but it wasn't the same as Sadie's. I'm not expecting anything I make to be exactly the same every time, but my first attempt was quite a significant deviation from the original. So Grant suggested I try it with just salt and pepper, and then I looked at the ingredients again and added some chili powder as well.
We had some friends over for dinner this week so I thought I'd try out a simplified version on them (but with lots of veggies again). And this is the outcome. And it's yummy. And you should try it. End of story!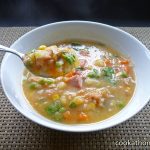 Ham, potato and veggie soup
Ingredients
1

onion

6

small potatoes

2

carrots

2

celery sticks

250

g

ham steak

4

cups

chicken stock

1

cup

frozen peas

1

cup

frozen corn

1

bunch spinach

1

cup

almond milk

1

tsp

chili powder

Salt and pepper to season
Instructions
Cut all the veggies and ham into varying sizes and shapes.

Place onions and celery into a heavy bottomed--saucepan and saute for a few minutes, until the onion is tender.

Add the ham and stock and bring to boil. Once boiled, allow to simmer for 30-40 minutes, or until the potatoes are cooked.

Add the almond milk and spices and continue to simmer.

Once potatoes are tender, use a masher to break up the larger lumps and thicken the soup.

Add the frozen peas and corn and spinach and stir.

Cook for another 10 minutes or until ready to serve.
Recipe Notes
This tastes better the longer it cooks, but be careful not to burn it!
This can also be cooked in a slow or pressure cooker - just adjust the amount of liquid to the desired texture and consistency.