Creamy chicken risotto
A yummy creamy chicken risotto, chock full of vegetables and with non-dairy, non-grain options available.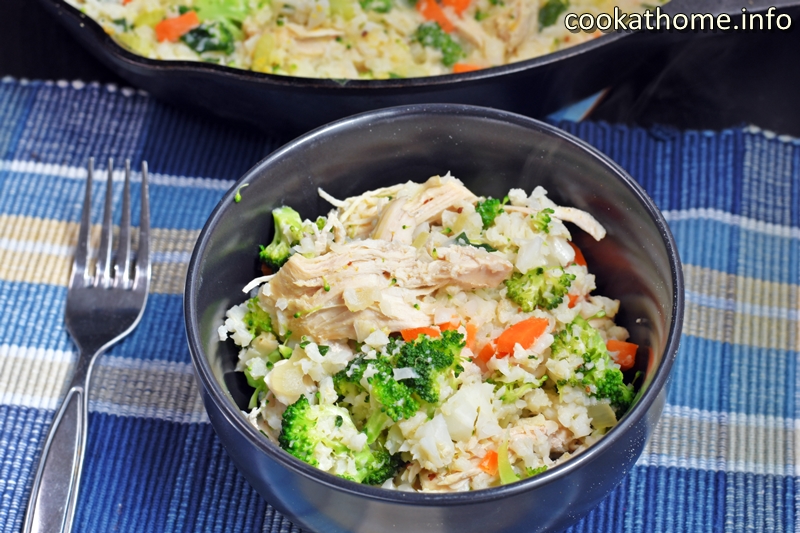 This creamy chicken risotto is a family favorite dish, but I've hesitated to post the recipe so I could get it just right with being non-dairy as well as gluten-free. And I think I've got it. Feel free to pack it full of whatever vegetables you have around – I think the last time I made it I included carrots, peas, broccoli, celery, spinach amongst others.
So here's a little trick for you – I'm giving you the recipe for when you want to serve it immediately. If your family (or guests) don't turn up to the table on time, and the rice starts getting a little gluggy (technical term here!), then add some more water, or (almond or coconut) milk.
I'm also giving you the recipe with full dairy ingredients, but there's a section at the bottom for those of you (like me) who have issues with dairy. And if you want to avoid grains, just use cauliflower rice and adjust the amount of liquid accordingly. I recently served this to the family with cauliflower rice, and the kids couldn't taste any difference!
Creamy chicken risotto
(Gluten-free, can be Whole30 - no dairy, grains, legumes, no added sugar)
Ingredients
8

cups

chicken stock

500

g

chicken breasts

1

tbs

olive oil

1

onion

finely chopped

2

cloves

garlic

finely chopped

1

stick celery

finely chopped

2

carrots

finely chopped

1

bunch broccoli

chopped

1

bunch spinach

finely chopped

2

cups

arborio rice

or cauliflower rice

1

tbs

chopped parsley

1/2

cup

grated parmesan cheese

see below for dairy-free options

125

g

cream cheese

see below for dairy-free options
Instructions
Place the chicken stock and the chicken (either cut up or as whole breasts) into a large saucepan and poach until the chicken is fully cooked.

Take the chicken out of the stock and reserve all stock for later.

Once chicken is cool, either cut into cubes or shred.

In a large saucepan, heat the olive oil. Place onions, garlic, celery and carrots and cook until softened slightly.

Add the rice and stir until all rice is coated with the oil. This should take approximately 1 min, and be careful to keep stirring to avoid burning the rice.

Gradually add in the reserved chicken stock, about 1/2 cup at a time. Stir and wait until the liquid is absorbed by the rice before adding more in. This should take about 20-25 minutes of adding, stirring and waiting.

At about the 4 cup addition mark, add in the broccoli.

Once the rice is soft, add the parmesan cheese and the cream cheese, as well as the chicken and parsley.

Stir all together and add additional water/milk to obtain the desired consistency.

Season with salt and pepper to desired taste.

Serve immediately.
Recipe Notes
This recipe can be reheated, but it is recommended to add more water/milk before microwaving.
To make this dairy-free:
1/2 cup parmesan cheese can be substituted by finely grinding (in a food processor) 1/2 cup brazil nuts, 2 tbs nutritional yeast and 1 tsp garlic salt.
125g cream cheese can be substituted with non-dairy cream cheese (like Tofutti brand), or simply coconut cream
To make this Whole30 compliant:
Use cauliflower rice instead of arborio rice. You will use only half the amount of chicken stock but feel free to adjust as needed.