Cornmeal cookies
An interesting combination of cornmeal and raisins – these gluten-free cornmeal cookies are a unique but yummy taste!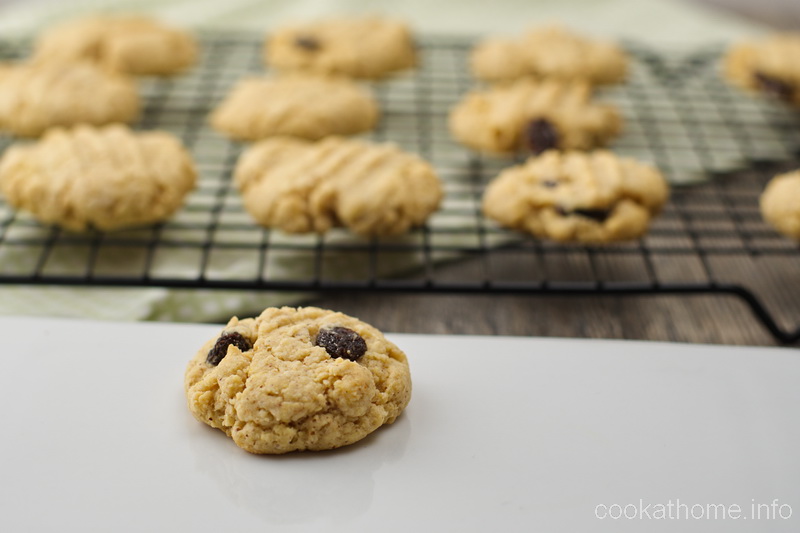 I found a pack of polenta in the supermarket here in Australia that contained only corn – after my experience with polenta over Christmas last year that 'may contain gluten' and me having a reaction, I was very careful with this one! There was a recipe on the back of the packet for cornmeal cookies, so of course I had to try it out. And they were really yummy – so now it's here for all of you to try as well! Again, the flour can be either normal plain flour or gluten-free plain flour. I used the GF variety and they turned out really delicious!
Note that these cornmeal cookies are definitely an acquired taste – they'd probably be really good with coffee (if I drank that) as they can be a little dry, but if you're up for a new and exciting taste combination, give these a go. I like them, so that's all that matters, doesn't it?
Cornmeal cookies
(Gluten-free, dairy-free)
Ingredients
1

cup

dairy-free butter

1 1/2

cup

sugar

2

eggs

1

tsp

lemon extract or juice

3

cups

plain gluten-free flour

1/2

cup

raisins

1

cup

polenta (cornmeal)

1

tsp

baking powder

2

tsp

nutmeg
Instructions
Cream butter, add sugar, eggs and lemon extract. Beat well.

Mix raisins with 1/2 cup flour and add to butter mixture.

Sift remaining flour with the other dry ingredients and add to the butter mixture, mixing thoroughly. Fold in the raisins and ensure all the flour has been incorporated.

Drop by teaspoons onto a greased cookie sheet and flatten out with a fork.

Bake 10-12 minutes at 190C/375F.