Chocolate peanut powder brownies
Using peanut powder, no refined sugar, eggs or flour, these brownies are great for when snack time hits!
You may have noticed the increasing popularity of peanut powder on the grocery shelves. And ask, what is this? Peanut powder is where peanuts are processed into a fine powder, which contains significantly less fat than traditional peanut butter. Now, in my opinion, the fat in peanut butter is the good fat, the type of fat that is healthy. But some people who are watching their calories and fat intake love this idea. You can make your own peanut butter from peanut powder by adding either water or milk (use unsweetened almond milk to keep the sugar and dairy content as low as possible). But most often, it's used in smoothies.
I'm not a big smoothie person – I've only got one smoothie recipe on this website, which uses powdered peanuts, funnily enough! But when Crazy Richards peanut butter sent me a box of goodies, there was a pack of peanut powder in it. Putting my thinking brain into gear, and I wanted to bake something with it. And fortunately, one of the guys at work was leaving to go to Canada for a few months, which gave me a great excuse to try some things out in the kitchen. And so this recipe was borne.
It's a peanut butter brownie, with peanut butter frosting. Be aware, that it's pretty rich and dark chocolate tasting, but that's how I like it. If you prefer slightly less dark chocolate, you could add some chopped nuts in it to break up the flavor a little.
I was extremely honored when I took the first batch to work and my General Manager (who hates chocolate) tried some, and told me he liked it because he knew everything I make is good. How much more of a compliment do I need? Wowee!!
As always, please feel free to experiment with the recipe and let me know what you come up with!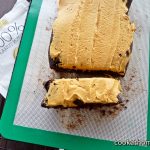 Chocolate peanut powder brownies
Ingredients
For the brownie
2

tbs

coconut oil

melted (30g)

1/2

cup

unsweetened applesauce

100g

3

tbs

peanut powder

36g

1

egg

1

tsp

vanilla

1/3

cup

unsweetened cocoa powder

40g

1

tsp

baking soda

1/3

cup

maple syrup

120g

1/2

cup

almond meal

100g

1/2

cup

unsweetened almond milk
For the frosting
3

tbs

peanut powder

36g

1/4

cup

unsweetened almond milk

1

tbs

maple syrup
Instructions
For the brownie
Preheat oven to 350F and prepare a 5x9" loaf pan with parchment paper.

Mix all ingredients in a medium mixing bowl until well combined.

Spoon into prepared pan and smooth the top.

Bake for 25 mins or until a toothpick inserted comes out dry.

Allow to cool in tin for 10 mins before turning out to a wire rack for final cooling.
For the frosting
Mix all ingredients together and apply to top of cooled brownie.
Recipe Notes
Add walnuts or other nuts for an added crunch to the texture.