Chocolate crackles
The Australian classic primary school treat – dairy-free chocolate and gluten-free rice cereal combine to form chocolate crackles.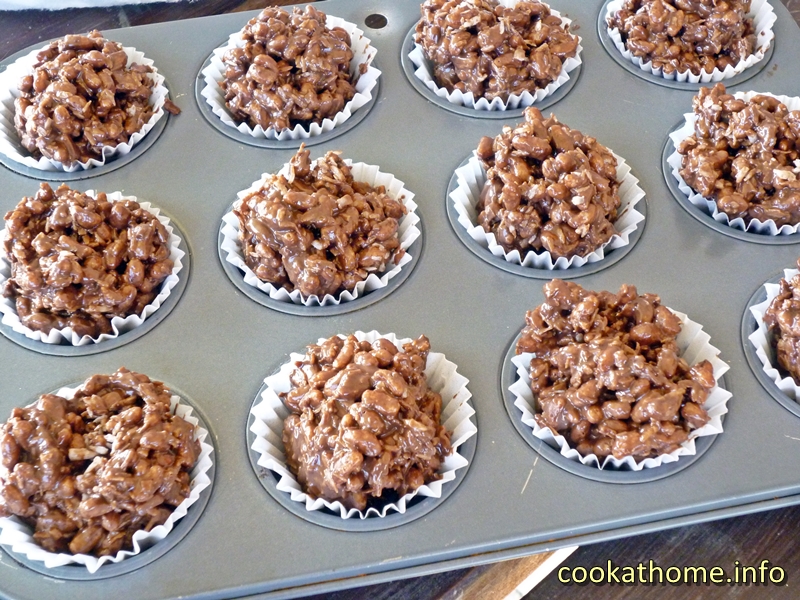 For those of you from Australia, these should take you back to your childhood. I remember a number of potluck meals, and primary school get togethers, where chocolate crackles were THE thing to bring and eat. But the traditional recipe calls for copha … which I understand to be high in lots of stuff that really isn't good for you. Add that to the fact that it's not available in the US, and I started doing some research on what I could use instead.
I found a box of gluten-free puffed rice cereal at the local grocery store (who knew that Rice Bubbles and it's generic counterparts contained gluten … and why??), and instead of making something healthy, like my rice krispie bars (recipe here), I thought I'd go back to my childhood and embrace all things chocolate and rice. Things that crackle together!
Chocolate crackles
Ingredients
2

cups

puffed rice cereal

gluten-free

3/4

cup

sweetened coconut

250

g

chocolate chips

dairy free if needed
Instructions
Melt the chocolate chips until smooth, either in a double boiler or in a microwave.

Mix together rice cereal and coconut with the melted chocolate until totally coated.

Spoon into prepared muffin tin liners and chill in refrigerator for at least an hour.