Monday, November 5th, 2018 at 8:00 pm
This iced matcha latte is a refreshing drink for those hot summer days – full of good nutrients to keep you going!
By now you've probably realized that I've hopped on the matcha bandwagon in a big way.  I mean, look at my matcha latte, my chocolate matcha slice and my matcha chocolate turmeric cups that I've published in recent months.  But let me bring this iced matcha latte to you, because it's just a little bit different.
This came about when I was looking for something to eat or drink mid-afternoon.  You know, when those munchies attack you?  But I wanted to stay away from anything sugary, knowing that it would lead to wanting to eat copious amounts of cookie dough, or ice cream, or something else.  And I've realized that any drinks I have should contain both protein and fat to make me feel satiated.  And this iced matcha latte has all of the above.
Simply almond milk and matcha (obviously), but with the addition of some collagen peptides (for protein) and almond butter (for good fats).  I've tried this with coconut butter, with tahini and even with an avocado and they all taste good.  But my favorite is with the almond butter.  Add some ice.  Blend away and you're good to go.
So give this iced matcha latte a go and let me know what you think!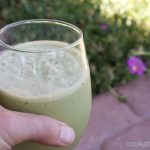 Iced matcha latte
(Paleo, gluten-free, dairy-free, keto, no added sugar)
Ingredients
1

cup

unsweetened almond milk

1

tsp

matcha powder

1

scoop

collagen peptides

2

tbs

almond butter

1/2

cup

crushed ice
Instructions
Blend all ingredients except the ice to combine well.

Add the ice and blend until desired consistency is achieved.

Drink immediately and enjoy!