Spinach peach salad
This spinach peach salad is a fresh take on salads, with yummy peaches, spinach and some nuts/seeds, dressed with an amazing balsamic and mustard mixture.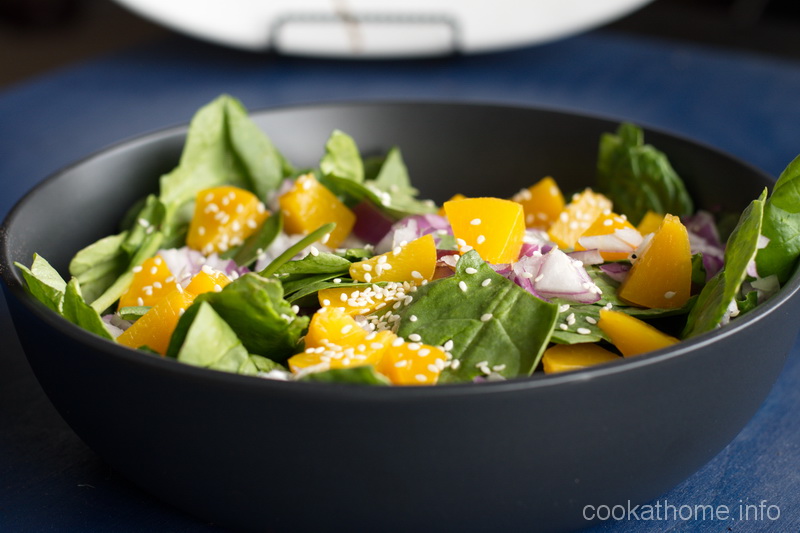 The house that we rented in Chile had some amazing fruit trees in the backyard – mandarines, lemons, peaches, nectarines.  The peaches became ripe all at once so we had a plethora of peaches that we needed to use or else give them up for the birds.  So I searched the internet for recipes involving peaches – and came upon this one.  It's pretty similar to my spinach & orange salad but the dressing is a real winner.  So much, that I've put the recipe for the dressing also separately here.
The original recipe called for pine nuts, to give it a bit of a crunch, but I wasn't able to find them in Chile.  So I substituted sesame seeds instead, and it was still very yummy!  I've also substituted in walnuts and other types of nuts – feel free to experiment yourselves and let me know how you go!
Spinach peach salad
(Gluten-free, dairy-free, vegan)
Ingredients
For the salad
4

cups

fresh spinach

1/2

small red onion

2

peaches

peeled and diced

2

tbs

sesame seeds
For the dressing
2

tbs

coarse grained mustard

1/4

cup

balsamic vinegar

6

tbs

olive oil

1

clove

garlic

finely diced (or minced)

2

tbs

sugar

or raw sugar, or coconut sugar
Instructions
Mix all of the dressing ingredients together and set aside.

Toss the salad ingredients into a bowl.

Pour over dressing just before serving.
Recipe Notes
Adapted from http://www.food.com/recipe/just-peachy-spinach-salad-95322