Pumpkin spinach salad
This pumpkin spinach salad is a deliciously different salad – with pumpkin, spinach, red peppers, mushrooms and nuts.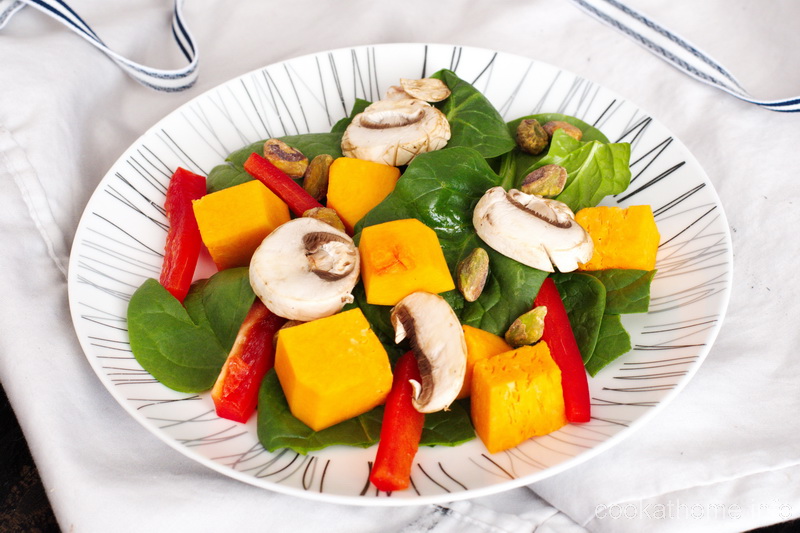 When I went out for lunch for work one day a few years ago, I noticed there was a pumpkin spinach salad on the menu, and thought I'd try it. It was delicious, and so I've incorporated it into my routine of lunches that I take to the office (when I can be bothered buying and cooking the pumpkin, since I'm the only one in my family that eats it!).
I've also changed it a little from what I originally ate, but feel free to add other ingredients as you see fit. One thing that I remember from the original was it has some feta cheese crumbled through it. Sometimes I've used cream cheese, other times I've just had it without any additional cheese. Also, since until recently, I really didn't like salad dressings, I haven't really experimented with what might work well, but I remember the original had a balsamic viniagrette of some sort, so maybe the one I just recently discovered (see here) would work. Also, feel free to experiment with the nuts – I've used pine nuts, walnuts, pistachios and they all work really well!
Pumpkin spinach salad
(Paleo, Whole30, gluten-free, dairy-free)
Ingredients
500

g

pumpkin

any variety

4

cups

spinach

1

cup

mushrooms

chopped

1/2

red capsicum

(red pepper)

1

tbs

chopped nuts
Instructions
Peel and cut the pumpkin into bite-sized cubes or chunks.

Place on a baking tray with baking paper and dry roast for about 30 mins at 180C/350F. Check that they are soft, but firm. Cool.

Cut up the spinach and capsicum/pepper and arrange in a bowl.

Add the cooled pumpkin and pine nuts to the rest of the ingredients and toss to combine.