How to stay Whole30 compliant while camping
Sunday, August 20th, 2017 at 10:11 pm
You've decided to do a Whole30, and then you realize that you had plans to go camping during that 30 days. What do you do? Normally camping is a time where diets and healthy food choices fly out the window because eating outdoors just tastes so good! And you excuse yourself by saying you've been walking around more than normal so this marshmallow, or chocolate, or packet of chips isn't really going to hurt you. And you know what? You're right! A weekend of indulgence isn't going to hurt you.
But, if you've committed to doing 30 days of Whole30 eating, and you decide to eat typical camping food … well, that usually means you would need to start your Whole30 again. Never fear, I'm here to help! I've just gone on a camping trip with the family, and I'm in the middle of my third Whole30. And I stayed compliant for every meal, while the rest of the family had the indulgent pleasures described above. How did I do it? And end up looking as happy as in the photo below?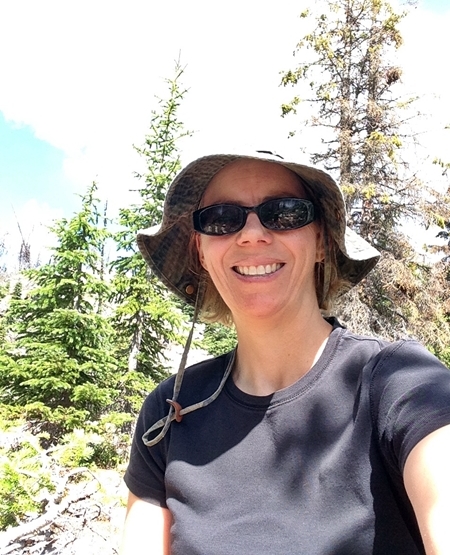 How to stay Whole30 compliant while camping
Plan ahead
While our camping trip was kind of spontaneous – Grant and I looked at each other one Sunday and said we wanted to go camping the following weekend – that still gave me plenty of time to think of what meals I could have that were compliant, and yet satisfy the family of picky eaters. Fortunately we had gone camping previously just before my second Whole30 so I had a few meal ideas already in my head. You can't really go wrong with meat and veggies …
Cook ahead
Instead of getting to a campsite, often when it's dark or late afternoon, and realizing you've got to set up the tent, find all the cooking utensils and the food, we've found it's much easier to simply cook the meal ahead, put it in a ziplock bag and all you have to do is reheat it. Now this works wonders with soup, tacos, satays, casseroles, you name it. And all you need is a frying pan and a burner. Couldn't be easier!
Bring compliant snacks
You know the feeling – the rest of the family is roasting marshmallows, to dunk in their pudding cups (or maybe that's just our family!), or they are snacking on crackers and dip, or chocolate, while you know very well that none of those foods are Whole30 compliant. Well, you have a few options:
Sit by yourself feeling very sorry for yourself,
Sit next to them and lord it over them that you're much healthier than they are (let's see how long the family camaraderie lasts with that one!)
Sit with them and eat some Whole30 compliant snacks, such as fruit, nuts, meat bars (I love Epic Bars and Wild Zora Bars) etc and join in the fun
Sounds easy … right? But what do you actually eat? Here's some ideas for you:
Whole30 compliant camping meal ideas
Breakfast
This shouldn't be too difficult – eggs and sugar-free bacon would win every day for me, with a side of snack veggies or fruit. Fills you up and keeps you full much longer than any sugar-filled cereal or toast and jam (although they are both yummy in their own right at times!)
Lunch away from camp
Now, if you're out all day and you need something to take with you, while the rest of the family has snacks … try one of those meat bars I mentioned above with some snack veggies such as snow peas, baby carrots, celery sticks, and a piece of fruit. And make your own trail mix to snack on if you need an added energy boost while hiking or whatever you're doing.
Lunch at camp and dinner
These can be interchangeable – as you are aware, food shouldn't really be classified as breakfast, lunch or dinner foods – just food that can be eaten. Here's where you can let your imagination go wild. Give these a go with options for those non-Whole30 family members
Taco meat with salad (family can have corn chips to make Nacho Taco Dippos, or wraps or tortilla shells for tacos or burritos)
Satay chicken with salad or cauliflower rice (family can also have rice, or wraps)
Or something just as simple as steak and salad
There we go – hope this has helped you. If you would like any suggestions, or would like to make some suggestions for me to try for our next camping trip (because there will definitely be more of them!), please comment below!
So it's still cooking at home, but eating outside. Best of both worlds if you ask me!
Until next time, enjoy cooking at home!
Sarah
Tagged with: camping • Whole30
Filed under: The Blog!
Like this post? Subscribe to my RSS feed and get loads more!