Honey glaze marinade
Monday, June 11th, 2018 at 10:00 pm
This honey glaze marinade is so simple and so versatile on any meats – sure to be the star of any BBQ!
I love this honey glaze marinade.  I've used it on pork.  I've used it on chicken.  I've used it on … sorry, I'll stop before I start to sound too much like Dr Seuss!  But seriously, every time that I serve any type of meat with this marinade, it is hands down a winner.  A couple of times Grant and I have cooked the same meat, but one lot with this marinade, and and another lot with some sort of spice rub.  Now, I'm not sure that because the rub has been a bit heavy handed each time, but each time our dinner guests (and us) have always preferred this one.
It's loosely based off a recipe from AllRecipes.com but made Paleo-friendly i.e. no refined sugar or soy sauce.  It's also kind of an adaptation of my honey tamari sauce, which I also adapt to a more Whole30 compliant option sometimes.  See, this is where actually publishing recipes on a website is tough for me because I keep changing things!  Does anyone else have the same problems?
This honey glaze marinade is so simple – get your meat into a ziplock bag.  Combine all the ingredients together and pour into the bag.  Let sit in the refrigerator overnight (in a bowl just in case there's a hole in the bag!) and then grill at your leisure.  Couldn't be any easier, right?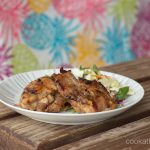 Honey glaze marinade
(Paleo, gluten-free, dairy-free)
Ingredients
1/3

cup

honey

2

tbs

coconut aminos

1

tbs

coconut sugar

2

tbs

avocado oil

2

tbs

balsamic vinegar
Instructions
Combine all ingredients together in a small bowl.

Add to meat of choice in a ziploc bag or container with a cover. Chill overnight for best results prior to cooking.
Recipe Notes
This marinade is sufficient for 3-4 lb meat (pork tenderloin, chicken thighs, etc)
Adapted from Allrecipes.com
Filed under: The Blog!
Like this post? Subscribe to my RSS feed and get loads more!