Curried eggs
A quick, healthy and nutritious Whole30 compliant snack that takes curry and eggs to a whole new level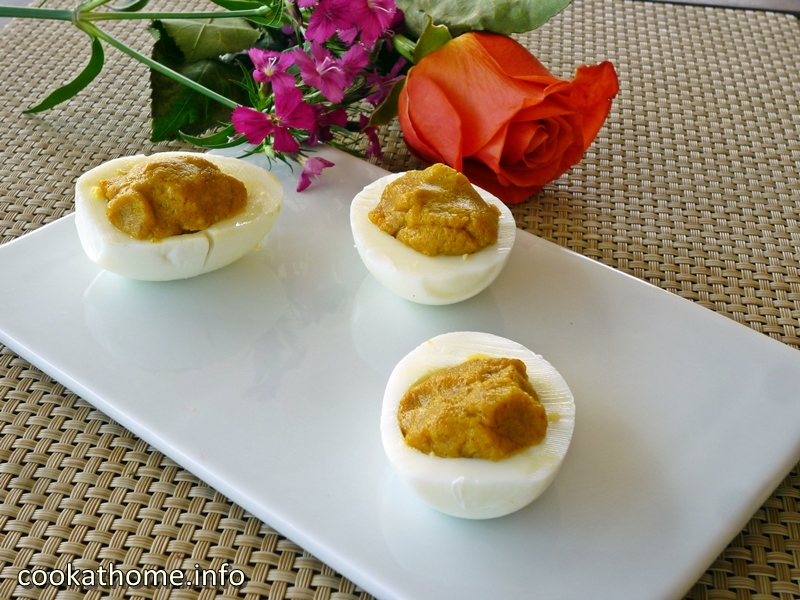 I remember when I was growing up and we always had these potluck dinners at church, where everyone would bring a plate of something to share. Undoubtedly, there would always be at least one plate of deviled eggs, or curried eggs. I always thought they were the same thing, and have been making my deviled egg recipe (here) when the occasion calls for it. However, just recently Grant commented that he loved curried eggs. I looked at him quizzically (a frequent occurrence), and asked what made the difference between deviled and curried eggs.
In the food vocabulary according to Grant, here's the difference. Curried eggs are simply eggs, curry powder and mayonnaise. Deviled eggs have eggs, curry powder, mayonnaise and mustard. I know now the difference and I will never make that mistake again (ahem!).
We also recently were discussing this definition with another food blogger, Celeste, from Life after Wheat (go and check out her website – lots and lots of gluten-free yummy goodness there!) and I realized I had to, sorry HAD to, put Grant's version of curried eggs on this website to share with all you good folk. So here it is. Feel free to make curried, or deviled, eggs next time you need to take something to share, or just for a snack at home!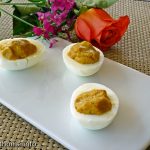 Curried eggs
Ingredients
3

large eggs

2

tsp

curry powder

2

tbs

mayonnaise
Instructions
Place the eggs in the steamer above boiling water and allow to cook for approximately 10 minutes.

Remove from heat and immediately place the eggs in an ice bath.

Once cooled, peel the eggs and scoop out the yolk into a separate bowl.

Add the curry powder and mayonnaise to the yolks and combine well.

Spoon, or pipe, the mixture back into the whites of the eggs and enjoy.