Coconut peanut butter balls
A yummy, simple recipe that has only 3 ingredients – peanut butter, raisins and coconut (with a little vanilla). These coconut peanut butter balls are really easy, no added sugar, so healthy!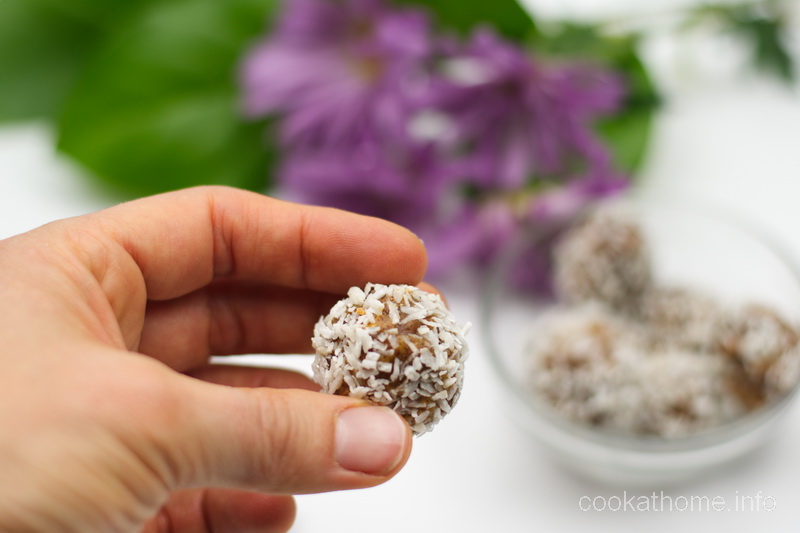 What to do with leftover peanut butter? What to do with leftover raisins? Why, process them together, of course! And then listen to your wonderful husband when he suggests you make the resulting product into balls and roll in leftover coconut!
Ok, so this was originally written when I think I was trying to get rid of excess ingredients before one of our international moves. Nowadays, I don't consider any peanut butter as leftovers! But these are awesome. I've brought them to parties and they go like the Flash. I've brought them to work and people comment they can't stop eating just one of them. Every time I make them I think I eat the equivalent of at least 5-6 while making them. You know, for quality purposes!
So simple to make, no added sugar. Pretty good for you, I guess, especially at 50 calories per ball!
If you're interested in making something else out of this awesome, simple, combination of ingredients, check out these healthy peanut butter oreos – no-bake and so easy to make. Similar to these … just make any combination of peanut butter and you'll be right!
Coconut peanut butter balls
(Gluten-free, dairy-free, no added sugar, vegan)
Ingredients
1/2

cup

crunchy peanut butter

1

cup

raisins

1

tsp

vanilla

coconut for rolling
Instructions
Process together the peanut butter, raisins and vanilla in a food processor. Add more or less raisins to taste.

Form into a log and place either in a ziplock bag or clingwrap and chill in the freezer for at least 30 minutes.

Remove from the plastic and cut into bite-sized pieces. Use your fingers to gently shape into balls, or bites, and roll in coconut.

These can be stored either in the fridge, freezer, or just on the kitchen counter.