Chocolate banana pie
Chocolate banana pie that's free from the 8 major allergens – using sunflower butter and bananas to provide the amazing flavor.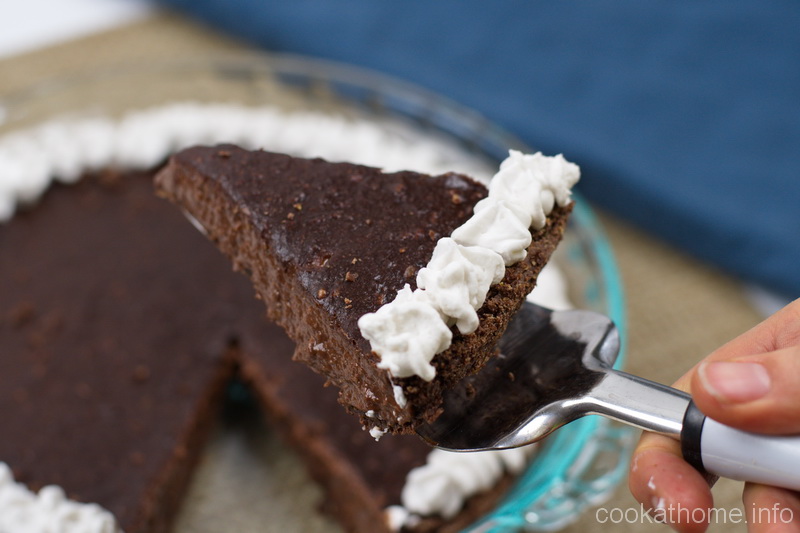 I must be in the zone for making cheesecake-like pies at the moment. Recently I posted a chocolate peanut butter cheesecake recipe using tofu instead of cream cheese, and no refined sugar (see here). Gee, that was yummy (just remembering the experience)!
As I was sitting in front of a fruit basket containing some very over-ripe bananas my brain started ticking over. I wondered what would happen if I made a chocolate cookie crust, based on a healthy graham cracker crust (see here) with a few modifications, and then made it free from all the top 8 allergens by using sunflower butter instead of peanut butter in my 'healthy' chocolate peanut butter banana ice cream, also known as 'monkey poo'! (recipe here).
And so this recipe was born … and it was a definite success! Especially with a simple coconut cream decoration, which I tried out my piping skills but didn't really succeed – I'm sure you could all do much better than me! I was impressed with the taste, though and that's all that matters, and so were our guests for that meal. Served with taco soup (recipe here), with some great conversation and it was an awesome night!
And the best part? Well, because this chocolate banana pie contains all natural ingredients, with no raw eggs etc, the batter is quite more-ish as well, so if you can't wait for it to fully set, you are more than welcome to eat it at your leisure!
Enjoy!
Chocolate banana pie
(Paleo, gluten-free, dairy-free, egg-free, no refined sugar)
Ingredients
For the base
1

cup

flaxseed meal

1/4

cup

coconut oil

1/4

cup

honey

2

tbs

unsweetened cocoa powder
For the filling
3

very ripe bananas

1

cup

sunflower butter

1/4

cup

unsweetened coconut flakes

2

tbs

honey

1/4

cup

unsweetened cocoa powder

1

tsp

vanilla
For the topping
1

tin

coconut milk

chilled overnight
Instructions
For the crust
Preheat oven to 350F and prepare a 8" springform pan with parchment paper and/or cooking spray.

Mix all ingredients in a medium mixing bowl until well combined.

Press into a lined 8x8" springform pan and bake for 8-9 minutes. Allow to cool in the refrigerator while making the filling.
For the filling
Blend all ingredients in a food processor or blender until super smooth and creamy.

Pour into crust and chill for approximately 1 hour.
For the topping
Chill the coconut milk in the fridge overnight.

Scoop out the solid coconut cream on top of the can and beat with an electric mixer until smooth.

Pipe onto the outside of the pie in swirls and keep in the refrigerator until just before serving.