Baked bagels
Monday, July 23rd, 2018 at 10:00 pm
Bagels, baked in the oven, low-carb and dairy-free.  Totally awesome for any toppings you desire!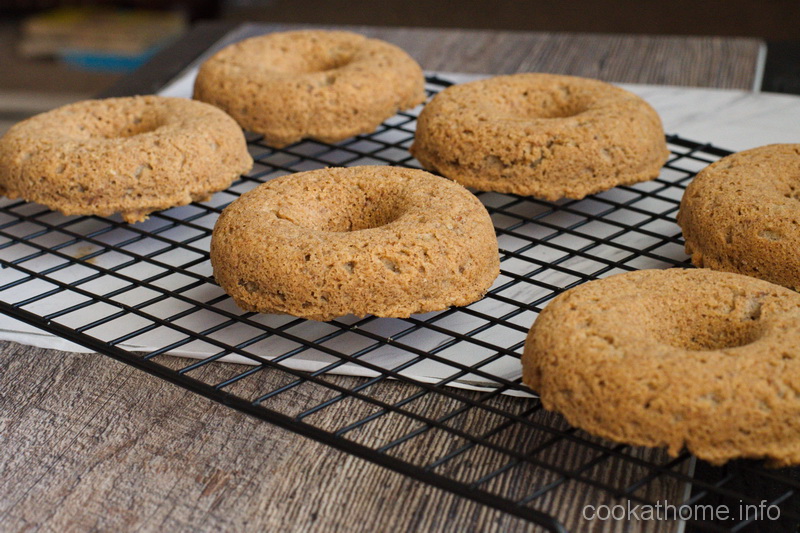 I'm gradually going through all the typical bread-y type things and converting them into things that my special snowflake stomach can deal with, such as bread, pizza crust and English muffins.  Well, now my friends, let me introduce you to some bagels.  Baked in the oven, rather than fried.  And with no added sugar at all, these low carb bagels are perfect for most special diets, including the ketogenic diet that I experimented with making cookies for recently!
The recipe for these bagels originally came from another site at My PCOS kitchen and it seemed like these were one of the only keto bagel recipes that didn't include some sort of dairy ingredients, so I leaped at the opportunity to give them a go.  Following the recipe (mostly) came up with some really nice savory bagels, due to some onion and garlic powder I added in there.  And then I wanted to experiment a little more.  So I took out all the savory bits and just left them as is.  And also tried some with adding some cinnamon and raisins in there – also without any additional sugar – but I liked them too!
So this recipe is pretty forgiving in terms of ingredients.  Now, in terms of shaping – well, you can try to shape them by hand (which I did on the first go around), or you can use a donut-shaped pan (like I did for the photo).  The donut pan gives more, smaller bagels, while the free-form ones are as big as you want them to be.  Just a tip for the unwary – if you want to cut them in half, make sure you shape them taller, rather than wider.
But please feel free to give these baked bagels a go – I love them and hope you do too!
Baked bagels
(Paleo, keto, gluten-free, dairy-free, no added sugar)
Ingredients
1 1/2

cup

blanched almond flour

205g

1/4

cup

coconut flour

30g

2

tbsp

psyllium husk powder

1.5

tsp

baking powder

1/2

tsp

baking soda

3

egg whites

2

eggs

4

tbsp

refined coconut oil

3

tbsp

unsweetened almond milk

1

tbsp

apple cider vinegar
Instructions
Preheat oven to 375F and prepare donut pan with cooking spray or baking sheet with parchment paper.

Combine the wet ingredients in a small bowl with a whisk and set aside for a few moments.

Combine the dry ingredients in a medium bowl with a whisk.

Pour the wet ingredients into the dry ingredients and mix until combined. Add 5 tbs of boiling water to the thick batter and continue mixing until completely combined.

Divide mixture into 8 equal balls and either roll out by hand into logs, joining the ends to make a circle, or fill into donut pan.

Place the trays into the oven and bake for 23 minutes or until golden brown. Allow to cool slightly prior to removing from pan.

Bagels keep well in the fridge, or freezer for up to 7 days.
Recipe Notes
Adapted from https://www.mypcoskitchen.com/dairy-free-keto-bagels-2/
Tagged with: bagel • bread • keto • no added sugar • paleo
Filed under: Recipes • The Blog!
Like this post? Subscribe to my RSS feed and get loads more!