Worms in the mud
Sounds strange, but amazingly not too rich for a dessert, this worms in the mud recipe can be adapted in many ways!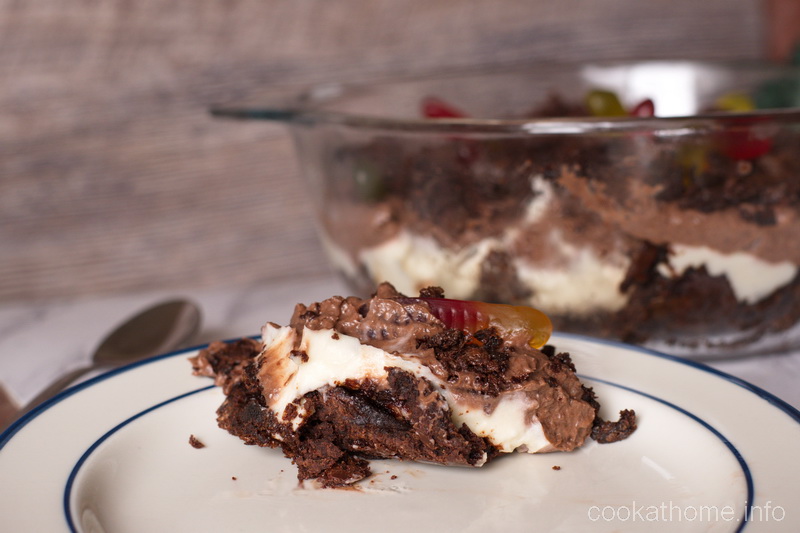 We got this worms in the mud recipe from a Veggie Tales DVD (animated talking vegetables – Sunday morning values, Saturday morning fun).  Very more-ish, but you need to get the right consistency for the chocolate pudding – something we haven't quite achieved in Chile as yet, but the Cottees instant pudding in Australia worked well every time.  In the US, try the Jello instant pudding mix, or Hersheys.  And it doesn't have to be chocolate pudding – we've done this with white chocolate, banana and cheesecake pudding mixes as the 'mud' – they are all equally as awesome!  Just make sure that there isn't any milk powder in the pudding ingredients to be dairy-free!
A few notes:
The crust can be either gluten-free chocolate sandwich cookies, or chocolate peanut butter cookies (recipe here)
Be careful of the gummy worms you use – unbeknownst to me, a lot of these candies in Australia are made from wheat glucose syrup … and hence I can't eat them.  Make sure you read the backs of the packets BEFORE you buy them!!
Look for dairy-free cream cheese – if you can tolerate soy, feel free to use the Tofutti or Daiya brands in the US.  Otherwise, check out Kite Hill for a cream cheese based on almond milk.  They work similar to the dairy version, but with a little less of the cream cheese flavor so be aware!
For the whipped cream, you can either buy a tub of coconut whipped cream (a dairy-free version of Cool Whip) or whip a tin of coconut cream, or put a tin of full-fat coconut milk in the fridge overnight and scrape off the cream that forms on top.
And if you don't want to worry about the cream cheese / cream issues, check out this other Worms in the Mud recipe – it's a lot simpler, but only works if you can find different flavors of the instant pudding mix!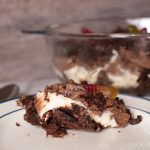 Worms in the mud
(Gluten-free, dairy-free)
Ingredients
1

pkt

gluten free sandwich cookies

or homemade chocolate cookies

70

g

dairy-free butter

melted

125

g

dairy-free cream cheese

1

cup

powdered sugar

300

mL

coconut whipped cream

1

pkt

gummy worms

1

pkt

instant chocolate pudding mix

1

tin

coconut cream
Instructions
Mix the chocolate pudding mix and coconut cream according to the directions on the packet and chill for at least an hour.

Place the chocolate cookies inside a plastic zip-loc bag and smash with a rolling pin until only crumbs remain. Mix 3/4 of the cookies with the melted butter and press into glass dish (8 x 8 in usually works well).

Mix cream cheese and sugar together until creamy. Fold in the whipped cream and place on top of the oreo cookie crust.

Add the chocolate pudding on top of the cream cheese, layer with the leftover smashed oreos and place gummy worms for decoration.

Chill in fridge until ready to serve/eat.