Bars, slices, cobblers and more
Monday, February 10th, 2014 at 2:34 pm
I had lots of time to play in the kitchen this weekend, as evidenced by the commentary below. And I've also started taking photos of everything I cook – I'm sure I'll get better with lighting and arranging as I go through this process! Any suggestions are welcome to make the photos (and this site) better – I've added a Suggestions tab for any comments you would like to leave.
Lessons learned this weekend:
Pizza crusts need bread flour, not just plain flour, or gluten-free substitute plain flour.
Always measure the baking pan you're planning to use BEFORE putting the mixture in.
When a recipe says to process dried fruit first, before adding the rest of the ingredients, do it – don't just process everything together and hope it will hold together.
Started out on Friday night, where I wanted to try a few different things: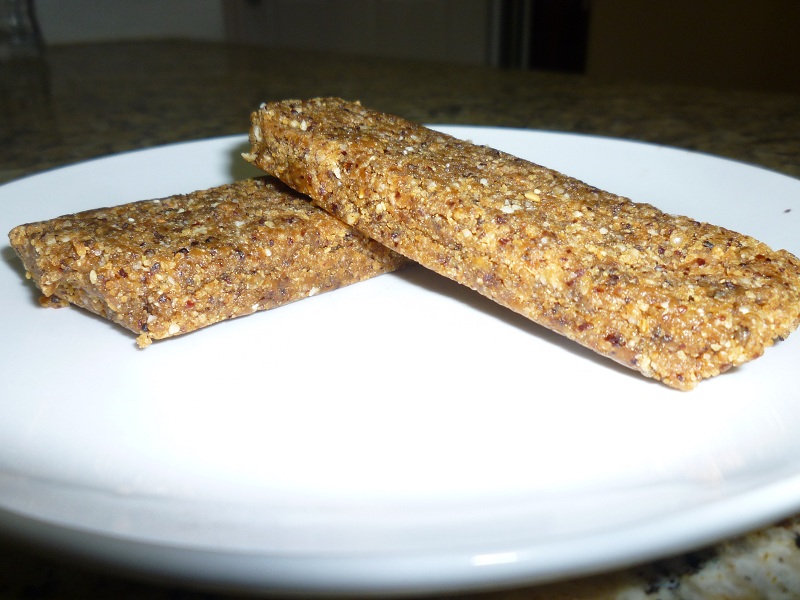 I made my quinoa bars, but realised I didn't have enough cooked quinoa for the whole batch and had some leftover puffed rice cereal, so thought I could combine these in the recipe. The taste was there, but it was very crumbly and didn't stay together, even with more peanut butter being added (you can never have too much peanut butter in my opinion!). So I added about 2 tbs of honey but still it was very crumbly. They'll still get eaten over the course of the next week or so, though. Once frozen, they seemed to stick together a little better and still very yummy.
I also wanted to make a 'raw energy bar' using a recipe I found somewhere – I had copied it down on a piece of paper without referencing where I got it from, so it could have been from one of my e-books, or a website from somewhere. But the recipe is here – and this worked really well.
And then I got a craving to make some cookies. And I found this recipe for flourless brownie cookies from yammiesglutenfreedom.com and it was very yummy. I've put that it made 16, but in actual fact I only made 15 … the other bit of dough didn't quite make it to the oven!
Saturday mornings the kids traditionally make pancakes for breakfast. Yes, they actually do the measuring, mixing and cooking generally. But this weekend I was in a generous mood and wanted to try something out for them. So I used Grant's pancake recipe and added fresh fruit, cream and maple syrup – trying to get creative with my 'plating up'!
Then the PLAN was to make a Chicago-style deep-dish pizza, but I soon realised that the dough just wasn't going to work, so ended up just using a gluten-free base I had bought a week ago for myself and some other bread roll-thing for the rest of the family. Still quite yummy, but not quite the outcome I wanted. And then we continued to get stuck into the fruit from our backyard … with a peach cobbler, and nectarine muffins.
The final attempt for the weekend was to make some quesadillas using chorizo sausage – we saw this on an episode of 'Kitchen Boss' and it looked quite good. But baking the corn tortillas in the oven I used a little too much oil, the chorizos themselves were quite oily, so it ended up being quite greasy. The photo I took of this really isn't worth posting … maybe next time when I use some other ingredients, and just fry it in a non-stick pan with no oil, like I normally do!
Filed under: The Blog!
Like this post? Subscribe to my RSS feed and get loads more!