White chocolate flan
A flourless white chocolate cake, no flan, no meringue. Whatever you call this, it is very yummy!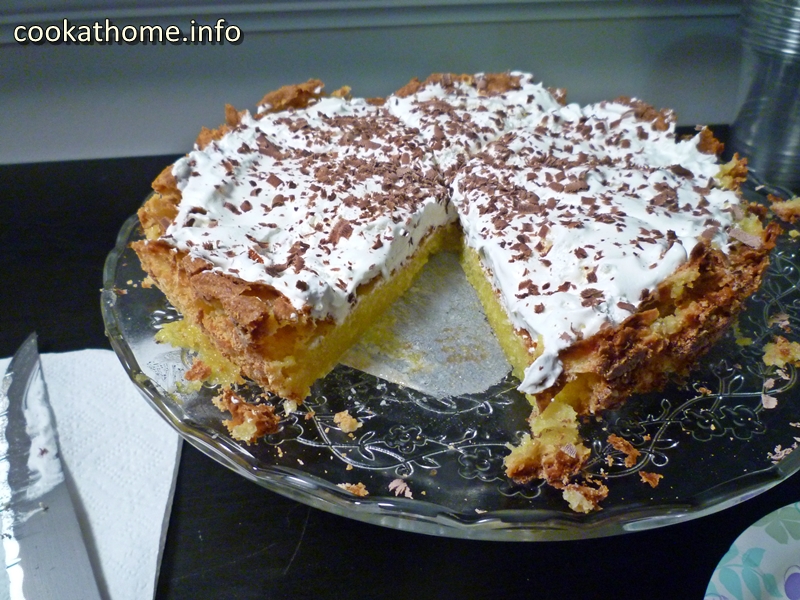 As most of you will know, Grant and I have been on the lookout for a recipe for a good flourless chocolate cake. And we found one (recipe here) that was light and fluffy, but still moist. And we thought to ourselves, how will this turn out if we use white chocolate, instead of dark chocolate. This is the only flourless chocolate cake recipe that we had found (until then) that didn't need any cocoa … and considering my previous attempts at changing milk chocolate recipes into white chocolate recipes (see here and here) were distinct failures, I held out little hope. But we tried it anyway.
A cake, it was not. With the many people that we have shared the result with, we have decided to call it a flan … and enter the many puns made about it being 'flantastic' etc. When it comes out of the oven, it has a 'cake-y' top, but when you cut into it, it's more like a custard. Or a meringue, with crunchy on the outside and soft and chewy on the inside. I'm going with calling it a flan, if that's ok with you all?
But the moral of this story is that this is yummy! And you should try it. And you should let me know how you go!
White chocolate flan
Ingredients
250

g

white chocolate

dairy-free if needed

115

g

butter

softened (dairy-free if needed)

6

eggs

2 whole, 4 separated

175

g

sugar

divided

Whipped cream to decorate
Instructions
Preheat the oven to 180C. Prepare a 23" springform pan.

Melt the white chocolate, either in a double boiler or in the microwave.

Pour over the softened butter and gently mix until no lumps remain.

Place the 2 whole eggs and the 4 egg yolks into a bowl and mix with 75g of the sugar until all combined.

Gently mix the chocolate mixture into the egg and sugar mixture.

Whisk the egg whites until foamy and then add the remaining 100g sugar until soft peaks form (not stiff).

Take about a tablespoon of the egg white and sugar mixture and gently stir into the chocolate mixture. Carefully fold in the rest of the egg whites.

Pour into prepared pan and bake for 40 minutes, or until the top is browned.

Take out of the oven and leave to cool in the pan.
Recipe Notes
The top will cave in as it cools, but this is the holder for the whipped cream and other toppings, such as strawberries, grated chocolate or other decadent treats.