Turmeric chia omelettata
Putting two amazing ingredients into your omelette just made this turmeric chia omelettata your new favorite breakfast!
Have you ever wanted to mix up your breakfast, but not stray too far from the beaten path? I love omelettes … see here and here for what I have done many, many times over. And I have them quite frequently for breakfast. Or lunch. Or dinner. And usually add whatever veggies I have lying around, or bought from the reduced section of the grocery store.
But I wanted to try something different this time. I had seen a friend of mine on Instagram continue to post omelettes made with chia seeds (thanks for the idea Marissa!), and wanted to give them a go as well. So I did. And I loved it. Then I saw a number of posts on Instagram with turmeric in it, and explaining all the health benefits associated with them. Now, you know that I love turmeric in the Pranayums spice shots, but if you don't have access to these, then feel free to just have good ol' turmeric powder instead.
This recipe just calls for simple ingredients – red pepper and spinach in the actual omelette, but I've made it with lots of other veggies – like broccoli slaw, roasted brussels sprouts, any sort of roast veggies works well! But you know what? I always put spinach in my omelettes. Never fails! Let me know what you put in your omelettes to inspire me further!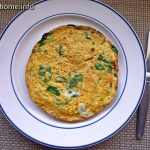 Turmeric chia omelettata
(Paleo, Whole30, gluten-free, dairy-free)
Ingredients
1/2

cup

red pepper

chopped

1/2

cup

spinach

chopped

2

eggs

1/2

cup

unsweetened almond milk

1

tbs

chia seeds

1

tsp

turmeric
Instructions
Combine the eggs and almond milk until well mixed. Add chia seeds and turmeric and set aside.

Heat a medium frying pan on medium heat with a little oil of choice (I usually use ghee).

Saute the red pepper until soft and add spinach.

Pour the egg mixture over the veggies and spread to cover the whole pan.

Place a lid on the frying pan and allow to cook until all the egg mixture is set.

Serve and enjoy immediately with any other toppings of choice (e.g. salsa, avocado, mayonnaise, etc).