Turkey taco salad
Turkey tacos in a salad – simple, yet full of flavor, and whole30 compliant
Did you know that October 4 is National Taco Day? I forgot, until I saw all the taco posts on social media go by. And then I realized, I've been making tacos for as long as I can remember, and I haven't got a single taco recipe on this website. So I took it upon myself to rectify this situation (you can thank me later!).
Ever since the Lego Movie came out with Taco Tuesday, my family has often requested Tacos on a Tuesday. Now, quite often I will make these tacos, but sometimes I'll switch it up with burritos, enchilladas, quesadillas, etc. And often I'll change the meat – turkey, chicken, beef, pork. Keeps the family guessing!
But this recipe is pretty much the stock standard one I use on most occasions now. Except most of the time I'll also process up some beans (red, black, garbanzo, pinto, whatever) and add that to the mix as well, much to Abby's disgust. Feel free to use the main meat part in a tortilla and add your favorite toppings such as sour cream, cheese, lettuce, grated carrot (or are we the only family who puts grated carrot on tacos? Would love to know if anyone else does this!)
So, for Abby's piece of mind (and also to make this recipe Whole30 compliant), I present to you Turkey Taco Salad, with no beans!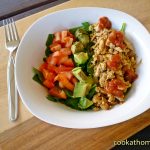 Turkey taco salad
Ingredients
1

lb

ground turkey

1

onion

diced

1

chipotle pepper in adobe sauce

finely chopped

1

tbs

smoked paprika

1

tsp

cumin

salt and pepper to season

1/2

cup

water

1/2

avocado

cubed

1/2 to

mato

cubed

1

cup

spinach

1

tbs

salsa
Instructions
Saute onion in a large frying pan until soft. Add turkey and continue to cook until brown.

Add pepper, paprika and cumin and stir until well combined.

Add water and allow to absorb for 5-10 minutes.

Assemble salad bowl with spinach, tomato and avocado.

Add meat and top with salsa.
Recipe Notes
Can use the meat in a tortilla with a multitude of other toppings - sour cream, cheese, lettuce, corn, etc