'Toothless' cupcakes
Sunday, May 7th, 2017 at 10:00 pm
It's been a while since I've done a post about cooking with kids, but do not fear, the kids and I have been spending a reasonable amount of time in the kitchen together. Our regular 'kids cooking' night has gotten a lot of good feedback – especially when we've invited someone around and the kids have to cook for more than just Grant and me. We've had Orange Chicken (recipe coming soon), burgers, and more burgers, trifle, pudding, and so many more meals that I can't remember.
But this one is special. As part of the Everything Food Conference, Abby and I bought tickets to the Cupcake Battles show with Justin Willman. You all remember how keen on cupcakes Abby was around this time last year? With stunning cupcakes such as the 'Patience' lemon blueberry cupcakes, 'Joseph' chocolate orange cupcakes, 'Love' red velvet cupcakes, 'Holy is the Lord' cupcakes, 'Kindness' chocolate raspberry cupcakes, 'Peace' banana toffee cupcakes, 'Joy' almond citrus cupcakes and our all time favorite 'let there be light' pineapple polenta cupcakes?
Well during intermission of the show, after they'd had a 40 minute cupcake battle on stage in front of us, Abby had an idea for a new combination of flavors for one to try at home. Her idea was to develop something that looked like her dragon, Toothless, from 'How to train your dragon'. Anyone who has spent any time with Abby will know of her obsession for dragons … so being the dutiful mother that I am, I said we could make them the next day.
Here's what she wanted:
A maple cinnamon cupcake with white chocolate chips throughout
Apple cider vinegar frosting (?)
Marshmallows dipped in chocolate with green icing for the eyes
Piped chocolate wings and tails
I thought it was a little ambitious, but I've learned to go with the flow. And here's the result:
Ok, so the cupcake looks a little bit sad, but I can kind of see the resemblance to the real thing, can't you? The good thing is that it tasted really different. I wasn't too sure about putting apple cider vinegar in the frosting, but we balanced it out with a LOT of powdered sugar, so it just gave your mouth a little tingle. The original cupcake recipe that we based this off of was a Paleo-friendly maple crumb cupcake … but with all the sugar and other stuff we added, these are definitely not Paleo-approved. I had a little bite, just to see how it tasted, but not more than that due to my special stomach needs and dairy issues. And I was impressed. So impressed, that we made a whole tribe of Toothless cupcakes: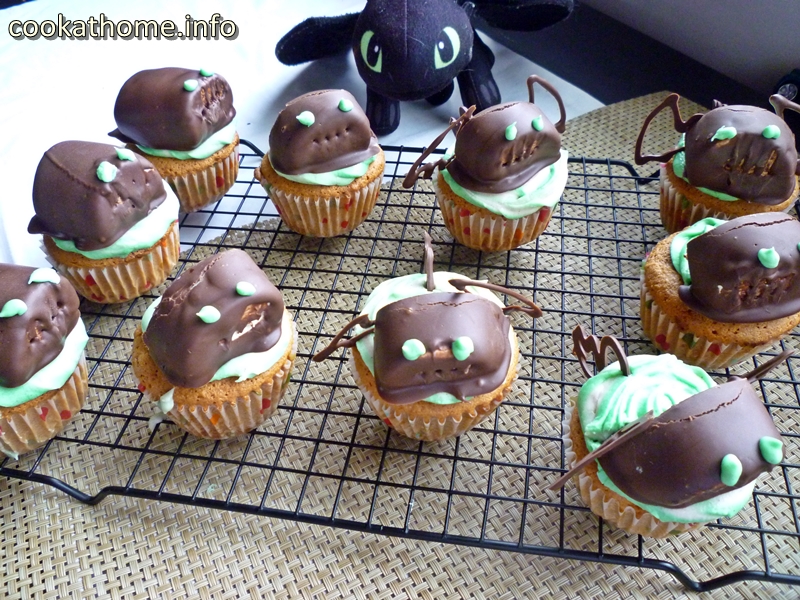 What was probably the highlight of the day, though, was when Abby and I were putting all of these together, Abby said that it didn't matter if they didn't work because at least she got to spend time with her mother. My heart just melted … (and all of you should go 'Awwwww'!). We had a lot of laughs and fun doing this – thanks for reading!
What is the most fun thing that you've made recently?
Until next time, enjoy cooking at home … with kids!
Sarah
Filed under: Cooking with kids
Like this post? Subscribe to my RSS feed and get loads more!