Thai coconut curry
A good mix of gentle curry spices in a Thai recipe that lends itself to many variations.
I've been wanting to try this recipe for a while – I find it's difficult to get a really good curry recipe, except for those out of a jar or a packet, which normally contain gluten or are made on lines that have processed gluten.
I came across this recipe at Chocolate Covered Katie and adapted to more of my families likes and dislikes. The original recipe was purely vegan, but I have substituted the mushrooms for beef and chicken on a number of times, but I'm positive it works well with the mushrooms as well! Just taste the sauce while you're cooking – you may need to add more peanut butter, soy sauce and ginger. The flavour balance is great, depending on how much other stuff you've got in there, you just may need some more of it!
To make this Whole30 compliant, substitute the peanut butter with sunflower butter, and the soy/tamari sauce with coconut aminos. Make sure the stock you use is also compliant – look for bone broth (either chicken or beef) to avoid the sugar.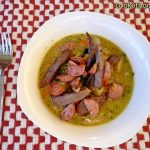 Thai coconut curry
2014-03-05 17:03:36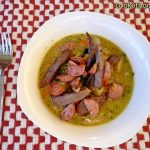 Serves 8
Nutrition Facts
Amount Per Serving
* Percent Daily Values are based on a 2,000 calorie diet. Your Daily Values may be higher or lower depending on your calorie needs.
Ingredients
1 cup (90g) chopped onion
1 green pepper
2 cups broth or stock
1 can coconut milk
2 1/2 tbs tamari sauce (or coconut aminos)
1 Tbs fresh ginger
2 tbs raw sugar (or unsweetened apple juice)
1 tsp curry powder
1/3 cup peanut butter (or sunflower butter)
250g broccoli
2 carrots
2" zucchini
3 potatoes
salt and pepper to season
Instructions
Heat a large frying pan and brown your choice of meat/protein in two batches. Set aside on paper towel to drain any excess moisture.
Either steam or bake the potatoes until tender - for a quick option, wrap individual potatoes in damp paper towel, then place in microwave for approximately 12 minutes.
Chop all vegetables into bite-size chunks.
To make the sauce, add the stock, coconut milk, tamari/coconut aminos sauce, ginger, sugar/fruit juic, curry powder and peanut/sunflower butter to a bowl and mix well to fully incorporate all ingredients.
In a large pan, saute the onion and green pepper until the onion is soft and translucent.
Add all the remaining ingredients, and the sauce, to the pot with the onions and capsicum. Bring to a boil then simmer uncovered for approximately 10 mins.
Add the browned meat/protein and simmer until warmed through and the vegetables are the desired level of crispiness.
Adapted from Chocolate Covered Katie
Cook at Home http://cookathome.info/