Saturday, December 9th, 2017 at 10:00 pm
7 'traditional' Christmas foods that we eat
How many of you have gotten to the Christmas season, thrown your hands up in the air, and wondered what you can make for the many (or even just the one) get togethers? Well, have no fear, because here I've put together 7 of our favorite Christmas foods, that you can easily make yourself at home.
This is a combination of foods that we've picked up along the way from the 3 different countries we've lived in – Australia, Chile and now the US. So, having two lots of summer Christmas foods, and one lot of winter, it's a bit of a mix and match of everything. But trust me, these foods are awesome, no matter what the weather outside is!
Now I'm not going to get into how to cook a turkey, or ham, or anything like that, because there's a dime a dozen helpful hints already out there. But what I wanted to share with you here, are some pretty easy, sometimes unique, Christmas foods that we eat during the festive season. Hopefully it will inspire you, and give you a tiny glimpse into our (often) chaotic life!
I've talked a little about how I don't understand the American tradition of serving the stuffing on the side of the bird, not stuffed inside (hence the stuffing name), but hey, if it tastes this good, I'm all for joining the rest of the country in eating this as a side dish. Traditionally the stuffing in the US is a cornbread base (see here for my gluten-free cornbread recipe), but if you're avoiding corn for any reason (like me), this pumpkin bread stuffing is a really good substitute. My family actually enjoy this much more than the cornbread version.
PS If you don't have a picky eater in your family that doesn't like dried fruit in any form (thanks Abby!), feel free to add some cranberries to the stuffing as well, for that extra zing!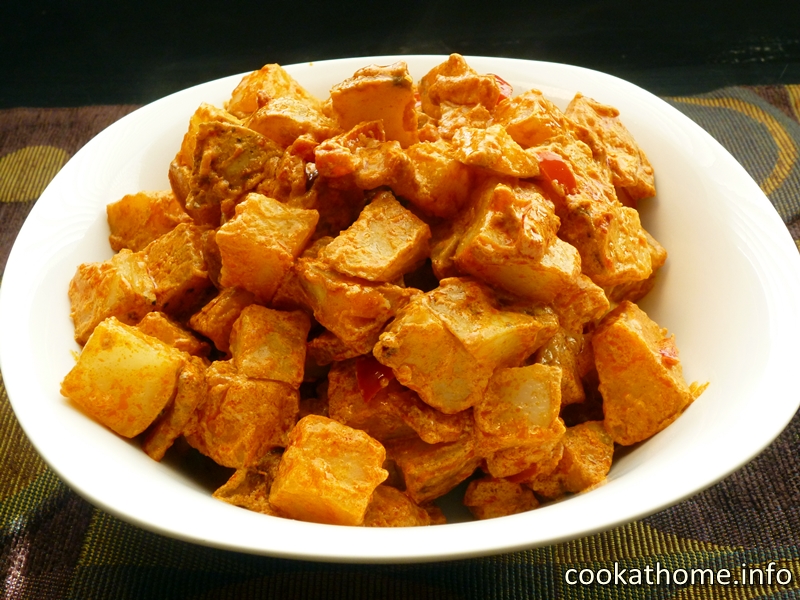 If it's warm outside, feel free to serve this Spanish potato salad cold. If it's cold outside, feel free to serve this Spanish potato salad warm. It's one of those awesome salads that can be served in any kind of weather. Now it's a little different to the normal potato salad because it has a whole heap of paprika in it, so if you love smoky flavors, this salad is for you. And bacon – because bacon makes everything better! This is actually a staple salad in our family – whenever we say we're having salads, the kids always ask for this salad.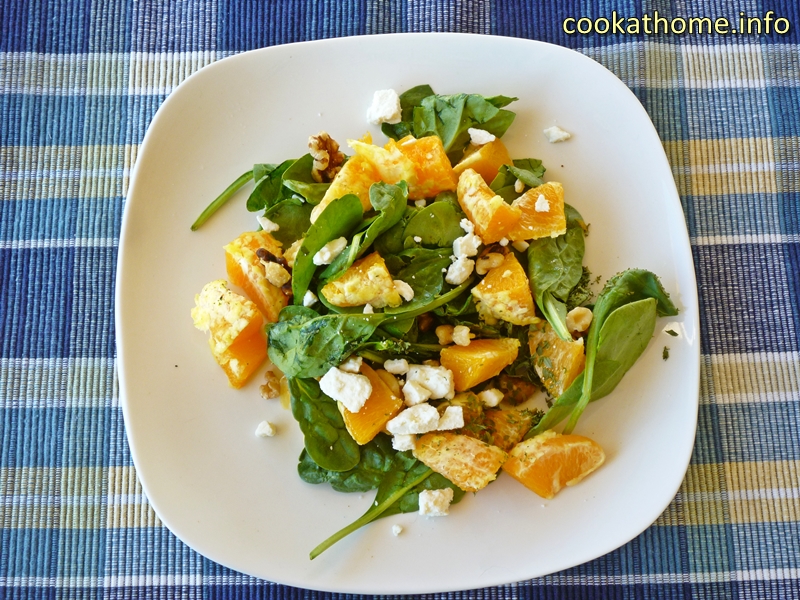 Gone are the days in our house of just a normal tossed salad – you know the lettuce, tomato (which only I eat), carrot and cucumber. Now, it's more along the lines of fruit and nuts with greens. And this spinach orange salad certainly satisfies that criteria. The recipe originally calls for some cream cheese in with the spinach and oranges, but, to be honest, even if you're not avoiding dairy, you can leave it out. Or if you love cream cheese, this really does give you that creamy texture so feel free to keep it in! When Abby made dinner recently, she decided she wanted to make this salad. She took one bite of it, and said she didn't realize how yummy it was … and she wants it more and more now!
Pavlova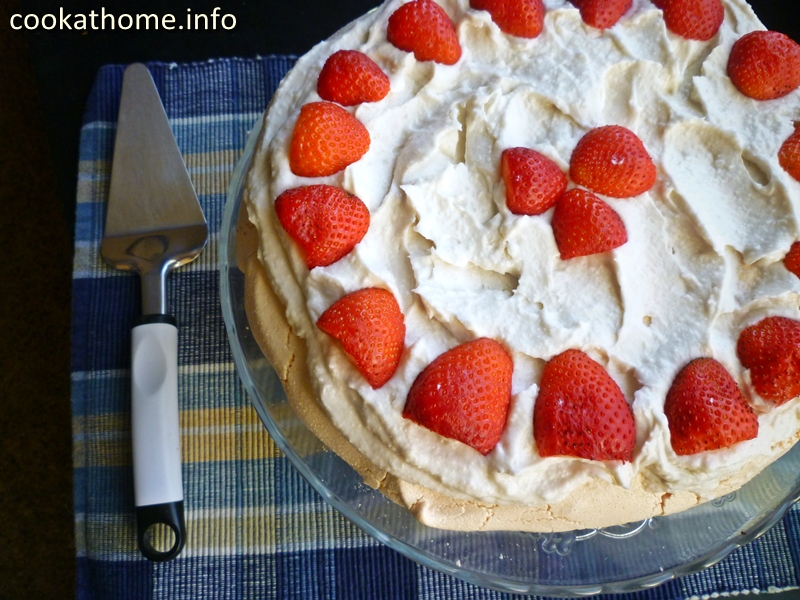 I'm kind of teasing you with this photo because I haven't published the recipe for it yet. But, for all you Aussies out there, know that I haven't given up on having the traditional Pav at Christmastime … and I've made this recipe so simple that even Henry can (and does) make it! So you'll just have to wait until it's published … maybe that will be an incentive to subscribe and get the e-mails to say when I update recipes (hint, hint!)?
Definitely going back to the Aussie roots for these fruit mince pies. Funnily enough, I loved the cheapest, home-brand mince pies the best. You know, the ones that came in the al-foil pans, usually 6 for $2 (or less). I could devour the whole pack quite easily … but that's another story! Making these gluten and dairy-free was a bit of a challenge. But then I found a shortcrust pastry recipe, which uses rice flour and cornmeal, and also a Paleo 'graham cracker' crust recipe. Both of these work equally as well in these fruit mince pies – and the flavor explodes in your mouth. Yes, I still love my fruit mince pie – and you can too!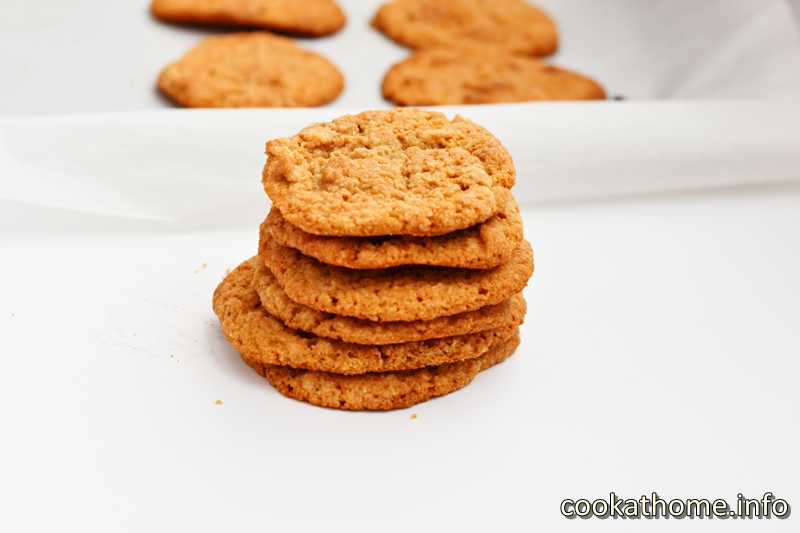 What says Christmas more than the smell of ginger? I'm not quite sure, but what I do know is that these ginger cookies are amazing, throughout the year! Gluten and grain-free, dairy-free and no refined sugar as an extra bonus! These ginger cookies are the right balance of crispy but soft, and are a real favorite because they are so easy to make! Bring these to any cookie exchanges (again, a US thing, I think!), and you'll be the star of the show!
Ahh yes, there's something quite romantic about having your cold hands around a hot chocolate when it's snowing outside, isn't there? So what would you say if I told you that this hot chocolate was dairy-free and sweetened only with dates? Would that make it feel even more romantic? Maybe romantic isn't quite the right word, but you know what I mean! And you don't have to share – this recipe makes enough just for one person. So after all the meal is done, feel free to treat yourself with a cuppa … and slip into that warm and cozy sleep … and relax! And if you're experiencing a warm Christmas, use this recipe but add some ice and blend away to get your own iced chocolate! Or try my chocolate frappe recipe …
7 'traditional' Christmas foods that we eat
So there we go – I hope you've enjoyed this little insight into our Christmas foods – and our family as well! From my family to yours, I wish you a truly blessed Christmas, with food, friends and/or family and lots of fun. And I hope you also enjoy cooking at home … stay tuned for more exciting recipes coming your way in the very near future!
Sarah