Strawberries and cream granola
Monday, July 16th, 2018 at 10:00 pm
Who doesn't love strawberries and cream?  Check out this strawberries and cream granola and feel like you're having dessert for breakfast!
It's been ages since I've created a new granola recipe, hasn't it?  But do not fear, Grant and I have been enjoying many different types and varieties of granola, mainly because I just use up whatever ingredients I happen to have in the pantry at the time that we run out!
But this strawberries and cream granola recipe is something that I'm actually quite proud of.  Something that tastes like the classic dessert combination but healthy enough to have for breakfast. And how do I keep it ok for my special snowflake stomach?  Well, the cream is actually coconut butter.  I was originally against coconut butter – because when I ate it straight out of the jar, it stuck to the roof of my mouth and really didn't have a good flavor.  But since then, I've used it in many recipes – like frosting on these pumpkin brownie bites, or as part of my matcha turmeric chocolate cups.  And then my brain thought – why don't I try using it in granola.
Now, if you've been following along for a while, you'll remember that I'm eating more of a grain-free diet these days, but I felt like having granola with oats this time around.  And I made it so that the granola was nice and crunchy, so Grant was happy!  You can either make your own strawberry jam, or buy some from the grocery store – my only recommendation is that you go for one that does not have high fructose corn syrup in it.
So what do you think?  Would you enjoy eating this for breakfast?  Let me know in the comments below!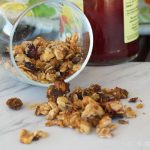 Strawberries and cream granola
(Gluten-free, dairy-free, vegan, no refined sugar)
Ingredients
1/2

cup

coconut butter

melted, 125 g

1/2

cup

strawberry jam

125 g

1/2

cup

cashews

chopped, 60 g

1/2

cup

cranberries

60 g

1

cup

gluten-free oats

100 g
Instructions
Preheat oven to 375F and line a baking tray with parchment paper.

Combine all ingredients in a medium mixing bowl.

Spread in an even thin layer on the parchment paper and bake for 15 minutes, stirring occasionally.

Allow to cool before storing in a sealed container for up to 5 days at room temperature.
Tagged with: breakfast • granola • healthy • no refined sugar • vegan
Filed under: Recipes • The Blog!
Like this post? Subscribe to my RSS feed and get loads more!