Strange cookie ingredients
Wednesday, June 29th, 2016 at 5:50 pm
I had a bizarre idea a few weeks ago – what can I put in cookies that people wouldn't necessarily think of putting in cookies. And my brain started whirring. Then I spent a very enjoyable day in the kitchen baking a number of different types of cookies, basically using up a whole pile of ingredients I had lying around. And here's the result: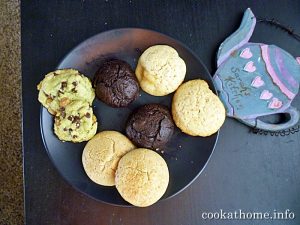 Some of these I've just posted recipes for (i.e. the ones that worked) and some I just had to throw in the trash (those I'm not going to give you the recipe for!). So going from the 'Sarah's kitchen kettle' clockwise:
Pineapple cookies – recipe posted here
Sour cream sugar cookies – basically tasteless
Pistachio choc chip cookies – using instant pudding mix, recipe posted here
Chocolate cream cheese cookies – ok, but not dazzling
And then I remembered when I first started working in my new job, I would hold 'guess the mystery ingredient' competitions. You know how it is, you want to make a good impression, meet new people etc. And I remembered the cookies I used (funny how all of them are peanut butter based!):
Chickpea chocolate chip peanut butter cookies (recipe here)
Quinoa peanut butter cookies (recipes here for the no-refined sugar version and here for the 'normal' sugar version)
Peanut butter mystery cookies – using ketchup (recipe here)
It took a while for my colleagues to guess the ketchup and the chickpea cookies but the quinoa ones they guess within about 30 mins of the competition starting.
Anyway, I'm always looking for other interesting ingredients to make into cookies and I'd love your feedback. Please write in the comments section below if you have any ideas for me to try, or any recipes you may have with 'strange' cookie ingredients.
Until next time, enjoy cooking at home!
Sarah
Filed under: The Blog!
Like this post? Subscribe to my RSS feed and get loads more!