Soft molasses cookies
These soft molasses cookies are very soft, gluten and dairy-free with ginger and molasses, almost a marshmallow texture.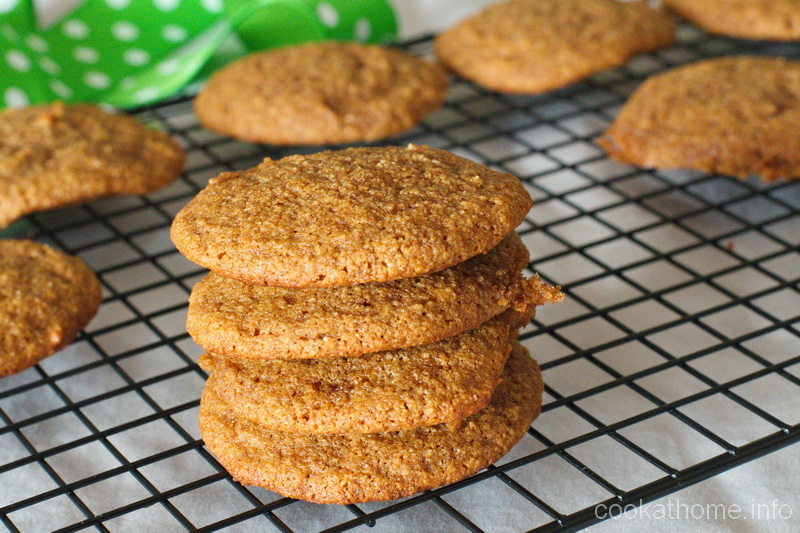 Ginger cookies … sigh. This is the quest to end all quests – to find the ultimate ginger cookie that the whole family will enjoy. I have come pretty close in the past with recipes such as lebkuchen and healthy ginger cookies but this one came as a surprise.
We recently went on a road-trip to the Grand Canyon and Las Vegas with Grant's parents. Along the way we stopped in at Seligman, Arizona and I found a cookbook from the Seligman Historical Society (as you do when you're on Historic Route 66!). There are SO many recipes I want to try out, although I'm not sure about the one for Elephant Stew (reproduced below):
1 medium elephant
2 rabbits (optional)
Salt, pepper
Brown Gravy
Cut the elephant into small, bite-size pieces. Season with salt and pepper. Add enough brown gravy to cover. Cook over kerosene fire about 4 weeks at 465F. This will serve 3,800 people. If more are expected, two rabbits may be added. But do this only in an emergency, most people do not like hare in their stew.
I'm thinking that was more for a joke than anything else? Maybe?
Anyway, I found a recipe for soft molasses cookies and adapted it (as I do). This is kind of healthy, but not healthy … which is why I've put it in healthy treats section of the website – there's no refined sugar in them, but I did use shortening rather than any other more 'natural' product and there is sugar in the molasses. If you would like to try it with butter (which I can't at the moment, being lactose intolerant!), or some other shortening substitute, I'd love to hear from you!
Soft molasses cookies
(Gluten-free, dairy-free, no refined sugar, vegan)
Ingredients
1/2

cup

vegetable shortening

1/2

cup

unrefined sugar

1/4

cup

unsweetened applesauce

1/4

cup

molasses

1/2

cup

almond milk

1

tsp

white vinegar

1 1/2

cups

gluten-free flour blend

1

tsp

baking soda

2

tsp

cinnamon

2

tsp

ginger
Instructions
Preheat oven to 350F.

Add vinegar to almond milk and set aside to sour.

Mix together the shortening, sugar, applesauce and molasses until creamy. Add in the almond milk/vinegar mixture and mix thoroughly.

Combine the dry ingredients in a separate bowl and gradually add to the wet ingredients. Mix for 1 minute until combined well.

Place by rounded tablespoon on an UNGREASED cookie sheet.

Bake for 12 minutes.
Recipe Notes
Adapted from Seligman Historical Society Cookbook