Sally's chewy chocolate chip cookies
These gluten and dairy-free cookies are awesome – chewy, chocolate-y goodness. Try to just stop at one!
Another yummy cookie recipe from Sally's Baking Addiction. She says this is the softest, most chewiest chocolate chip cookie out there and has been repeated many times on Pinterest (might need to see whether I can figure out how to work that!), but in her step-by-step instructions she specifically states that no substitutions are possible to get the right taste and texture, including gluten-free flour. So, I took up the challenge, using a simple generic, mass-produced plain flour blend and WOW, these cookies are awesome. You just have to try these to see for yourselves!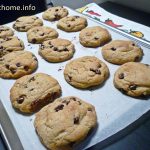 Sally's chewy chocolate chip cookies
Ingredients
2 1/4

cups

280g all-purpose flour (gluten-free if necessary)

1

tsp

baking soda

1 1/2

tsp

corn starch

cornflour for those living in Australia

3/4

cup

170g butter, melted (dairy-free if necessary)

3/4

cup

150g brown sugar

1/2

cup

100g granulated sugar

1

large egg

1

egg yolk

2

tsp

vanilla extract

1

cup

180g chocolate chips
Instructions
Combine the flour, baking soda and corn starch in a large bowl and set aside.

In a medium size bowl, whisk the melted butter, brown sugar and white sugar together until no brown sugar lumps remain.

Whisk in the egg, then the egg yolk.

Finally whisk in the vanilla.

Pour the wet ingredients into the dry ingredients and mix together with a large spoon or rubber spatula. The dough will be very soft, yet thick.

Fold in the chocolate chips as best as possible.

Cover the dough and chill for 2 hours or up to 3 days. Chilling is MANDATORY.

Take the dough out of the refrigerator and allow to slightly soften at room temperature for 10 minutes.

Preheat the oven to 165C. Prepare baking pans with parchment paper or baking mats.

Roll the dough into balls, about 3 tbs or 60g each - they will be large! The dough will be crumbly but the warmth of your hands will allow the balls to stay intact. Roll the cookie dough balls to be taller, rather than wide, to ensure the cookies will bake up to be thick.

Place on the baking sheets and bake for 11-12 minutes. The cookies will look very soft and underbaked, but they will continue to bake on the cookie sheet.

Allow to cool on the cookie sheet for 10 minutes before moving to a wire rack to cool completely.
Recipe Notes
Cookies stay soft and fresh for 7 days at room temperature (if they don't get eaten before then!). Cookies may be frozen for up to 3 months. Rolled cookie dough may be frozen for up to 3 months and baked in their frozen state for 12 minutes.