'Ruth' savory cornbread muffins
Saturday, November 14th, 2015 at 4:39 pm
This week's cupcakes were … interesting. Abby's idea was to have savory cornbread muffins, with a savory cream cheese frosting, again from one of the winning cupcakes on Cupcake Wars. Yeah … it was a winner on there, but I don't think we followed what they did quite close enough.
The cornbread muffin was easy – I used my awesome gluten-free cornbread recipe (see here) and made it into muffins. That was easy, the batch made about 12 muffins. I also chopped up some spring onions (kind of like the shallots they used on the show), and added some dairy-free cheese into them. I liked the muffins by themselves – they were light and fluffy with a hint of the savory-ness (is that a word?)
And then the frosting. I had some dairy-free chive and onion cream cheese that I had bought to have on my gluten-free bagels (there are some advantages of living in the US and access to all these sorts of foods!). So we used that, and added some dairy-free margarine and then … some powdered sugar to make it into a normal cream cheese frosting. I think that was our downfall. I think I should have watched the episode to find out how to keep the frosting savory. I just don't think it worked.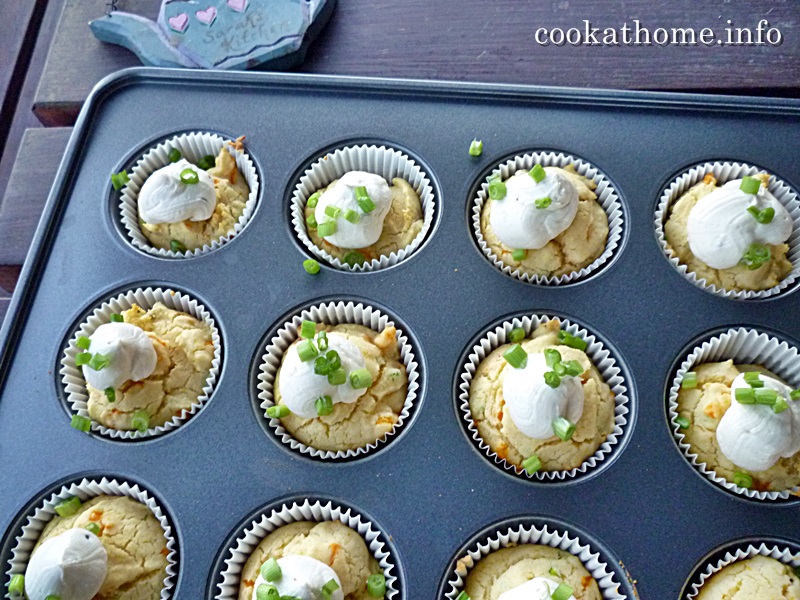 But, having said that, I handed them out to the ladies at my Bible Study and 3 out of 4 who took them (after cautionary warnings from me) said they liked it. Only one ended up throwing it into the garbage!
So, lessons learned:
cornbread muffins are awesome!
savory cornbread muffins are awesome!
savory cream cheese frosting … needs more work. I found out later that Abby thought they just whipped the cream cheese and dolloped it on top – that would have worked!
And why they're called Ruth … this is all part of Abby's attempt to bring the Bible into our baking. Check out Ruth 2:2 (NASB) – And Ruth the Moabitess said to Naomi, "Please let me go to the field and glean among the ears of grain after one in whose sight I may find favor." Some translations use 'corn' for 'grain' … I thought it was a good reference!
Hope you enjoyed reading about our … ahem … failure. Hopefully our next cupcake attempt will reap (!) better results!
Until next time, enjoy cooking at home … with kids!
Sarah (and Abby)
Filed under: Cooking with kids
Like this post? Subscribe to my RSS feed and get loads more!