Route 66 pile-up
Inspired by diners along the iconic Route66, this side dish is full of flavor and a great talking point for dinner guests!
For those of you who have followed my cooking adventures for a while, you will remember that a few years ago Grant and I drove from Chicago to Los Angeles along the iconic Route 66. We had a great time with only 3 concerns every day, instead of the myriad of issues that confront us in our daily life. What were these 3 concerns I hear you say?
How far do we want to drive tomorrow?
Which hotel should we stay in (we hadn't booked any in advance)?, and
Where can we get our next piece of pie?
And so, our love of American pies was born. So much so that I've taken the recipe from one of the diners along the route for their pie crust and made it so many times I cannot count (see recipe here). And there's so many types of pies that I've made, such as lemon meringue pie, chocolate peanut butter cream pie and others that are variations on a theme. But this isn't about pies … this is about what we ate for the main course.
We visited a diner in Albuquerque, New Mexico that was known for its Route66 meals and feel. And we found this on the menu – a Route66 pile-up (see to the left for what it looks like at the original place!). Basically, fried cubed potatoes, with bacon and onions, topped with fried eggs and salsa. Now, be aware that in New Mexico you get a choice of salsa – red, green or Christmas (i.e. a combination of red and green). Grant and I were talking about this meal as we're planning on driving along Route66 again this year with the whole family (and his parents) and I suddenly thought that I could make this Whole30 compliant as well.
Grant was happy. I was happy. The kids … well they enjoyed everything but the eggs and the salsa. We'll get them used to it sometime before we head off on our journey! Give it a go as an interesting side dish …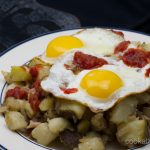 Route66 pile-up
(Paleo, Whole30, gluten-free, dairy-free)
Ingredients
2

tbs

coconut oil

3

large white potatoes

cubed

2

rashers of bacon

1

medium white onion

diced

2

eggs

Salsa
Instructions
Steam, or boil, the potatoes until just tender.

Melt the oil in a large frying pan and add the onion and bacon. Stir until the onion is translucent and soft.

Add in the barely cooked potatoes and fry until crispy and brown on the outside, while soft on the inside.

In a separate frying pan, fry the eggs until the whites are set but the yolks remain runny.

Serve eggs on top of the potato mixture with salsa (red, green or a combination)
Recipe Notes
For the true Route66 experience, melt some shredded (dairy-free) cheese throughout the potatoes before adding the eggs on top.