Roast veggie and quinoa salad
Yummy roast vegetables tossed with the nutty quinoa flavor and texture – a great wholesome lunch idea!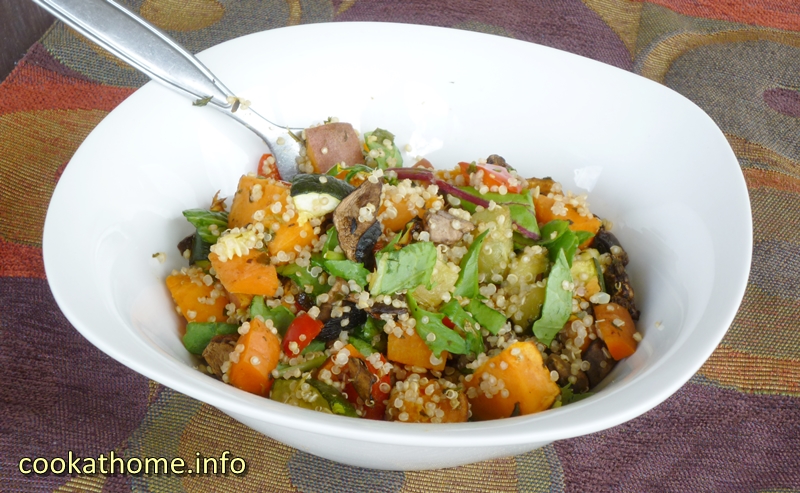 A favorite lunch of mine – but the family aren't so keen on it. It's kind of an adaption of a salad I had once where there was a whole pile of roast veggies with couscous. Now that I know that couscous isn't gluten-free, I changed it to quinoa and I use whatever vegetables I have on hand. I've also put in black beans, avocado and a myriad of other foods – what I've given you below is just some ideas to get you started. This can be eaten either hot or cold – but I usually have it cold.
Let me know what you think!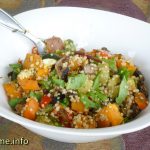 Roast veggie & quinoa salad
2015-05-17 10:36:39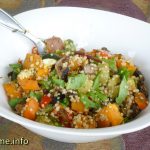 Serves 6
Nutrition Facts
Amount Per Serving
* Percent Daily Values are based on a 2,000 calorie diet. Your Daily Values may be higher or lower depending on your calorie needs.
Ingredients
1 C dry quinoa
2 C water
300g sweet potato (about 1/2 - 1)
150g zucchini (about 1)
220g mushrooms
120g red pepper (about 1)
170g carrots (about 4)
1 tbs parsley leaves
1 tbs cilantro leaves
50g spinach
Instructions
Place quinoa and water into a medium-sized saucepan and bring to boil.
Allow to simmer for 10-15 mins until all the water has been absorbed and remove from heat. Use a fork to fluff up the quinoa and set aside to cool.
Chop all the veggies except for the spinach into relatively similar sized pieces and place on some parchment paper on a baking tray.
Bake for 40-45 mins at 350F or until the veggies are tender.
Chop the spinach and mix with the roasted veggies.
Add the cooled quinoa and mix thoroughly.
Serve either immediately or store in the refrigerator for a hearty salad whenever you wish.
Cook at Home http://cookathome.info/