Roast meat gravy
A delicious Whole30 compliant roast meat gravy that can be used with beef, lamb, turkey, chicken …!
Who doesn't love roast meat, smothered with gravy? If that's you, then I won't blame you for not reading any further on this post. But if you are like me and my family, and you LOVE roast meat gravy, have I got the recipe for you? And it comes courtesy of the Whole30 cookbook.
I originally made this gravy along with the beef, according to the Slow Cooker Italian Beef Roast recipe when I was doing my second Whole30 earlier this year. I found that the beef became pretty dry, which could have entirely been due to my ineptness at using the slow cooker for a roast (see my other beef roast recipe for thoughts on that!). And then I tried it with some turkey that we were feeding some friends who came over for lunch one day. And then I tried it with lamb. Every time I've made it, I have absolutely loved it. And so have the rest of the family. So will you – and it's so easy!
The one thing I will recommend is searing the meat (whatever variety you go for) before putting it in the slow cooker. It just seems to help hold its juices a little bit longer. But if you don't, this will still taste amazing!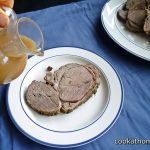 Roast meat gravy
(Paleo, Whole30, gluten-free, dairy-free)
Ingredients
1

large onion

cut into wedges

1 1/2

tablespoons

dried parsley

1

tbs

Italian seasoning

1

tbs

fennel seeds

1

tsp

garlic salt

1

tsp

black pepper

2/3

cup

beef broth

or chicken or vegetable

2

tbs

tapioca starch
Instructions
Place the chopped onion in the bottom of the slow cooker.

In a small bowl (mortar and pestle if needing to crush the spices), combine the parsley, Italian seasoning, fennel seeds, garlic salt and pepper and grind to combine.

Rub the mixture on all side of the meat of choice.

Heat some cooking oil in a large skillet over medium-high heat. Add the meat and brown on all sides. Transfer the meat to the slow cooker.

Add the broth to the slow cooker, cover and cook for 4-6 hours or until done.

When cooked through, remove the meat and allow to rest.

Pour the broth, spice and onion mixture into a food processor and blend until all the onions have been combined.

Combine some of the mixture with the tapioca starch until a paste is formed.

Place the remaining broth in a small saucepan and slowly pour in the tapioca starch mixture. Heat the gravy until reduced in volume and thickened to desired consistency.
Recipe Notes
Adapted from The Whole30 cookbook