Quinoa nut & seed bars
I love this recipe for healthy quinoa bars – lots of nuts and seeds and the all-natural peanut butter really holds it all together.
One thing about being gluten-intolerant is that I've gotten to try all these different foods I never would have contemplated. Quinoa is one of them, and I love it in many dishes -savory and sweet. And, as those of you who are playing at home are aware, my all-time favorite healthy bar/slice contains quinoa (recipe here). But I thought I would branch out a little and try a different variety. I found this recipe at www.cookingquinoa.net and adapted it based on what I had in the pantry, and what I thought at the time. I loved it – lots of nuts and seeds and the all-natural peanut butter really held it all together.
Feel free to mix and match nuts, fruit and seeds, depending on what you have on hand, but make sure you've got enough peanut butter (or other nut butter) to get it to stick together!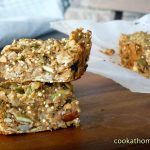 Quinoa nut & seed bars
Ingredients
1/3

cup

80g honey

1

cup

250g all-natural crunchy peanut butter

1/2

cup

dry quinoa

1/2

cup

pumpkin seeds

2

tbs

flax seeds

1

tsp

cinnamon

1

cup

gluten-free rolled oats

1/2

cup

almonds

coarsely chopped

1/2

cup

raisins
Instructions
Preheat oven to 180C / 350F.

In a large mixing bowl, combine quinoa, seeds, oats, cinnamon, raisins and almonds.

in a small, microwave-safe bowl, combine peanut butter and honey. Stir to mix, then microwave for 1 minute to soften.

Pour the wet ingredients over the dry ingredients and stir to thoroughly mix.

Transfer the mixture to a parchment lined 8 x 8 baking dish and squash down the mixture as much as possible to make a single, even layer.

Bake for 15 minutes.

When finished, remove from oven and let cool for 10 minutes.

Cut into bars and store in either the refrigerator or freezer.