Pumpkin soup
A simple pumpkin soup that packs a punch of flavor, with all natural ingredients that avoid all the top 8 allergens.
I love pumpkin. My mum made this pumpkin soup when I was growing up and I loved it. Very simple, and easy to adapt as necessary. I have often added things like chickpeas, spinach and mixed vegetables to make it more of a balanced meal, since I can't really have bread with it any more. I know there's many other recipes out there for pumpkin soup, ones that include things like cream, yoghurt, herbs and spices, but this one is a real easy, never-fail one (in my experience, anyway!).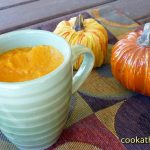 Pumpkin soup
2014-01-29 08:19:47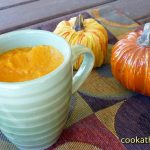 Serves 6
Nutrition Facts
Amount Per Serving
* Percent Daily Values are based on a 2,000 calorie diet. Your Daily Values may be higher or lower depending on your calorie needs.
Ingredients
500g pumpkin (any variety)
500g potatoes
1 onion
1/2 - 1 tbs vegetable stock
3-4 cups water
Instructions
Peel and chop the pumpkin, potatoes and onion. They don't need to be too fine as they will be blended together once cooked.
Add the onion to a large pot and cook until just translucent.
Mix the vegetable stock in the water and add to the pot.
Add the rest of the vegetables to the pot and simmer for 20-30 minutes, or until they are all soft.
Blend together and add extra water to achieve the desired consistency. I prefer my soup to be really thick, so I usually don't!
Adapted from my Mum
Adapted from my Mum
Cook at Home http://cookathome.info/