Pumpkin chocolate chip cookies
Gluten-free, dairy-free pumpkin chocolate chip cookies that take all the fall flavors of pumpkin and chocolate and combines them into deliciousness in every bite!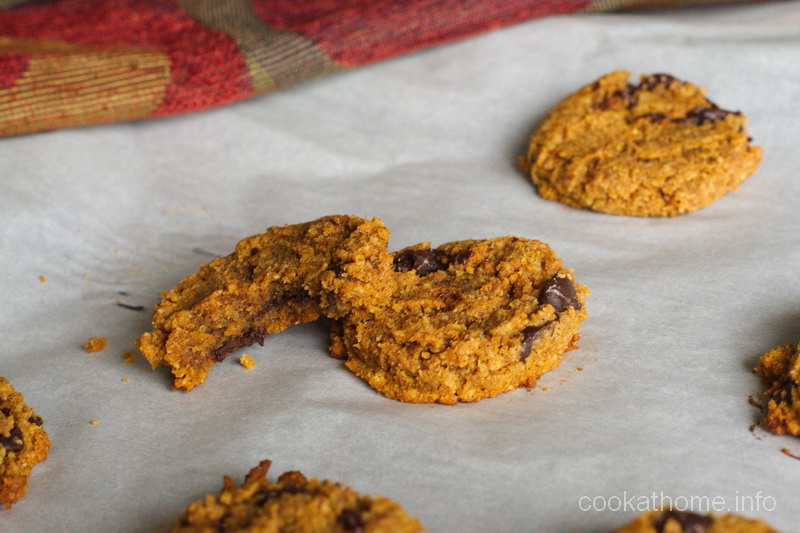 I was challenged recently to come up with a pumpkin spice chocolate chip cookie – and here's the result. I toyed with a few ideas of what I could use as a base, and remembered my soft molasses cookie recipe (see here). This is a really nice and chewy cookie, and I thought I could adapt it using pumpkin puree instead of the molasses and applesauce, and make it even more natural by using coconut oil instead of vegetable shortening.
I took them out of the oven (after sampling some of the dough prior to entering), and they smelt divine. My family loved them. My neighbors loved them. The person who challenged me originally (that's you Bethani!), loved them as well. And you will too. Trust me!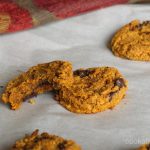 Pumpkin chocolate chip cookies
(Gluten-free, dairy-free, egg-free, vegan, no refined sugar)
Ingredients
1/2

cup

coconut oil

1/2

cup

raw sugar

1/2

cup

pumpkin puree

1/2

cup

almond milk

1

tsp

apple cider vinegar

1 1/2

cups

gluten-free flour blend

1

tsp

baking soda

1

tbs

pumpkin pie spice

1/2

cup

chocolate chips

dairy-free if needed
Instructions
Preheat oven to 350F.

Add vinegar to almond milk and set aside to sour.

Mix together the coconut oil, sugar and pumpkin puree until creamy. Add in the almond milk/vinegar mixture and mix thoroughly.

Combine the dry ingredients in a separate bowl and gradually add to the wet ingredients. Mix for 1 minute until combined well. Fold in the chocolate chips until well dispersed.

Place by rounded tablespoon on an UNGREASED cookie sheet.

Bake for 12 minutes. Allow to cool on sheet prior to moving to a sealed container.