Prosciutto wrapped asparagus potato frittata bites
What's better than an egg frittata muffin? These Whole30 compliant prosciutto wrapped frittata bites, that's what!
By now you will have realized that my mind is constantly in a struggle to determine what to have for breakfast. Should I go with the traditional egg option, such as egg muffins, omelettes, my combination of an omelette and a frittata … or should I go with my favorite granola like this, this or this? Or should I go with pancakes – either with flour or without? And then there's the whole pile of sweet potato options such as my sweet potato hash, sweet potato toast, or sweet potato chia pudding. Hmmm … maybe I should just come up with something different!
As you may know, I'm part of a Recipe Swap club, where each month we are assigned another food blogger to collaborate with and make one of their recipes, and put the experience on our blog. In September I was assigned Ali from Fix Me a Little Lunch and I made her really yummy samosa baked potatoes. But I was looking through all her recipes and this one also caught my eye. It turned out that in my eagerness to make the samosa baked potatoes, I actually baked too many potatoes, so I had a baked potato just waiting, looking at me, wanting to be used in a new recipe. And her Asparagus Potato Frittata Bites turned out to be just the thing.
Now of course I had to adapt it, because I just can't make a recipe as it is written. Maybe that's a character flaw? Anyway, I had some prosciutto in the fridge, leftover from my cashew chicken parmigiana (see how I'm just using up a whole pile of ingredients in this recipe?), and I thought I'd try making these frittata bites (or muffins if you wish) wrapped in prosciutto. And I changed the mozzarella cheese to nutritional yeast because of my special snowflake, lactose intolerant, stomach.
I have to tell you all – these prosciutto wrapped frittata bites are awesome. I had them warm out of the oven for dinner. I had them cold for breakfast. I had them for lunch. These are seriously a versatile dish – and great for using leftovers! And they were different enough to everything else I've linked above, that it was a win-win situation all around! Thanks Ali for inspiring me to make another one of your recipes! And now, you all can make these as well!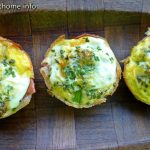 Prosciutto wrapped frittata bites
(Paleo, Whole30, gluten-free, dairy-free, no added sugar)
Ingredients
1

small baked potato

cut into small cubes

1

tablespoon

olive oil

4

spears asparagus

cut into 1/2" pieces

2

tsp

nutritional yeast

1

tablespoon

finely chopped chives

6

eggs

2

tablespoons

water

1

teaspoon

salt

fresh ground pepper to taste
Instructions
Preheat the oven to 350F and prepare a muffin tin with silicone liners or grease well.

Divide the potatoes, asparagus, nutritional yeast and chives between the six cups of a well-greased muffin tin.

In a separate bowl, beat the eggs with the water, salt and pepper until frothy. Pour the egg mixture into each muffin cup. Sprinkle additional chives on top as desired

Bake for 30 minutes or until a knife inserted in the middle of the egg comes out clean.